Laboratories
Research and Teaching Laboratory Facilities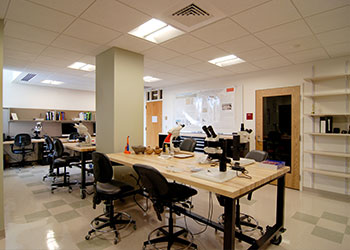 Archaeology has several laboratories on the second and third floor of the Stone Science and CAS building. These facilities are available for student use when appropriate.
General rules for laboratory use:
No food or drink should be consumed or stored in any of the laboratories.
No equipment or supplies should be removed from any laboratory without the permission of the professor in charge or Michael Hamilton.
Research materials, artifacts, plant remains or the like that are on a table or counter should not be disturbed or moved without first contacting the person in charge of that material.
Only authorized personnel are allowed in the laboratories. The labs are not to be used as meeting places, lounges, or lunchrooms.

All foreign soils and plants entering BU Archaeology Labs for study must be transported, handled, analyzed, and disposed of in strict compliance with the USDA: Animal and Plant Health Inspection Services Regulations.
Archaeology and Anthropology Teaching Lab (CAS 335)
Archaeology Research Lab (STO 250)
Environmental Archaeology Lab (STO 348)
Geospatial Lab (STO 354)
Paleoethnobotany Wet Lab (CAS 335A)
Zooarchaeology Lab (CAS230)
Save
Save
Save
Save
Save
Save
Save
Save