Intensive Cognitive and Communication Rehabilitation
Our recent papers on this topic include:
Gilmore, N., Ross, K., & Kiran, S. (2018). The Intensive Cognitive-Communication Rehabilitation (ICCR) Program for Young Adults with Acquired Brain Injury (ABI). American Journal of Speech Language Pathology.
In the Press:
POV: Setting the Record Straight on Traumatic Brain Injury
CSD Program Makes College Possible After Brain Injury
Grit Teamwork Boost This Sibling Duo at Framingham State
After Son's Brain Injury Harvard Chaplain Trace Evolution Grief Gratitude and Belief
Description of the ICCR program:
Traumatic Brain Injury (TBI) is an insult to the brain caused by external forces, such as a car accident or fall, that may impair the cognitive domains of attention, memory, and/or reasoning. Aphasia is a language disorder caused by a stroke or other injury to the brain's communication networks that results in speaking, listening, reading, and/or writing impairments.
The Intensive Cognitive-Communication Rehabilitation (ICCR) program is a 15-week intensive therapy program for young adults with TBI or aphasia, who are interested in continuing or pursuing higher education. ICCR integrates classroom-style lectures with individual and group therapy to capitalize on the following principles of neural plasticity: intensity, specificity, repetition, and salience.
A program like ICCR is sorely needed for the young ABI population. These individuals want to return to school but need to strengthen their cognitive-linguistic skills in a structured and encouraging environment before they can succeed in a typical classroom. ICCR takes a functional approach, allowing students to get much-needed practice implementing strategies that will be relevant in a university setting, and to do so in a supportive, slower-paced environment. Simultaneously, ICCR utilizes impairment-based treatment, providing students with direct therapy for specific cognitive-linguistic goal areas. Both impairment-based and functionally-based treatment paradigms have been shown to improve communication skills after brain injury in an intensive environment; ICCR unifies the two. For this reason, we believe ICCR will result in positive outcomes for our students and will allow them to achieve their goals of returning to an academic setting in the future.
Academic Coursework
Every day includes academic courses in topics typically offered in the first semesters of a liberal arts education. For example, in one semester, we offered Introduction to Psychology, Introduction to Economics, Personal Finance, and US History. Students utilize a webpage for video lectures, class notes, and other therapeutic resources. Class discussions use the academic content as a vehicle to support cognitive-linguistic growth. By engaging in this intensive classroom environment, with support and meta-cognitive training, students learn to be successful in the classroom with their brain injury and/or aphasia.
Speech-Language Therapy
Each student participates in two, one-hour speech and language therapy sessions each week, which are specifically-tailored to address each student's area of need. The therapist works with them individually on tasks to address the speech, language, and cognitive skills required to meet their goals of returning to the academic setting. They have been provided a Skill Book, which includes a calendar, schedule, detailed descriptions of strategies to facilitate learning and practical applications.
Technology Training
Following classes, the students participate in technology or computer-guided work to address their cognitive-linguistic skills. This includes systematic app-based therapy, and supported practice with other technology, such as forming study groups, creating and organizing material in a word document, checking and drafting emails, and reviewing lecture material on the internet.
ICCR integrates the strongest elements of evidence-based practice into one comprehensive program to target cognitive-linguistic goals at all levels. From individual sessions to group therapy, from the computer to the classroom, we hope to provide students with the skills and tools necessary to set their own goals and then to achieve them.
Summary of this project: The Intensive Cognitive-Communication Rehabilitation (ICCR) Program for Young Adults with Acquired Brain Injury (ABI): 
Gilmore N., Ross K., Kiran S.
This study investigated the effects of an intensive cognitive-communication rehabilitation (ICCR) program for young individuals with chronic acquired brain injury.
ICCR included classroom lectures; metacognitive instruction, modeling, and application; technology skills training; and individual cognitive–linguistic therapy. Four individuals participated in the intensive program (6 hr with 1-hr lunch break × 4 days × 12 weeks of treatment): 3 participants completed 3 consecutive semesters, and 1 participant completed 1 semester. Two controls did not receive treatment and completed assessments before and after the 12-week treatment interval only.
All 4 experimental participants demonstrated significant improvements on at least 1 standardized cognitive–linguistic measure, whereas controls did not. Furthermore, time point significantly predicted participants' scores on 2 of the 4 standardized outcome measures, indicating that as duration in ICCR increased, scores also increased. Participants who completed multiple semesters of ICCR also improved in their therapy and personal goals, classroom behavior, life participation, and quality of life.
After ICCR, participants showed gains in their cognitive–linguistic functioning, classroom participation, and individual therapy. They also demonstrated improvements outside the classroom and in their overall well-being. There is a gap between the large population of young adults with acquired brain injury who wish to return to higher education and a lack of rehabilitation programs supporting reentry into academic environments; ICCR is a first step in reducing that gap.
ICCR FAQ
About ICCR program:
How long is the semester?

12-weeks + 1 week of testing before and after each semester

What semesters are offered?

ICCR has 3 sessions a year: Spring, Summer, and Fall

What is the weekly schedule?

Students attend the program 4 days/week from 10am – 4pm.

What type of courses do students take?

Students take two core classes, typically introductory college-level courses (e.g., Intro to Psychology) and 1-2 elective courses (e.g., English Literature, Film and Television, Personal Finance).

Can I receive college course credit from Boston University?

Unfortunately, this program does not offer college credit since it is a research study.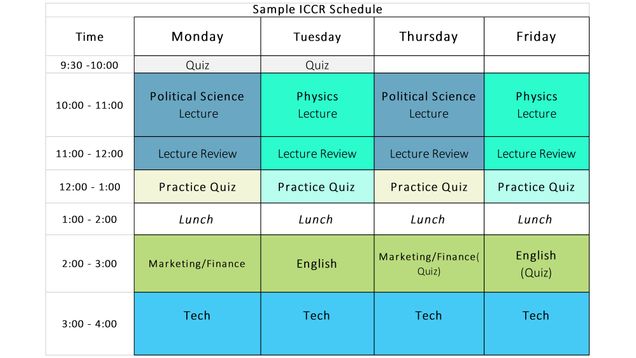 Enrollment Process:
Who is a good fit for ICCR?

ICCR is for young individuals who want to pursue college and are currently unable to meet that goal due to language/cognitive deficits associated with their brain injury (e.g., stroke, TBI).
What is an estimated timeline?

Talk with ICCR staff to ensure the program aligns with your symptom profile and goals.

Set up an initial screening visit during which we consent you for the study and complete assessments to understand your language and cognitive profile

Request medical records to gain information about your past medical history

Observe an ICCR class session in person or via videoconference

Review all of this information and make a decision about enrollment  
How do I observe a class session?

Let us know that you are interested by phone (617-353-2706), or email (aphasiaresearchlaboratory@gmail.com). 

Observations are over videoconference.

Recommended observation times are 11-1PM and 2-3PM.
Logistical Questions:
I am not located in Boston, MA, can I still participate?

YES! Since March of 2020, the program has been running remotely over Zoom as a teletherapy treatment.

If you are located accessibly to Boston, you may still be asked to come to our laboratory before and after treatment to complete your testing sessions in person.
If you are not accessible to Boston at all, you will be able to complete your testing over videoconference.
If you are not yet enrolled in the program, you may be asked to participate as a control participant, and complete cognitive-communication testing every start and end of the ICCR semester up until the time you enter treatment.
Are there any required books?
Are there any materials I need?

Accessing the program over Zoom requires a reliable internet connection. In addition, a device that is videoconference compatible is necessary for participating in testing and treatment. Most participants have an iPad and personal laptop/tablet that they use so that they are comfortable with them when they transition to college.
If you are concerned about materials or technology, you can discuss this in detail with the ICCR team.
Are there any classroom lectures?

Yes. There are traditional lectures every day from 10-11am. The lectures are video recordings from classes taught at Yale, Stanford University, Khan Academy, etc. You will watch them uninterrupted (just as if you were in the class live) and then, discuss afterward with a speech-language pathologist from 11am-1pm. Here is a link to an example lecture: https://oyc.yale.edu/psychology/psyc-110/lecture-2
Does the program cost money?

The program currently is offered for a flat rate each semester for participants. Financial aid may be available. Please contact our laboratory to learn more.
I'm interested and want to get started! What do I do now?

GREAT to hear! Please reach out to our laboratory at aphasiaresearchlaboratory@gmail.com to learn more.