Communities Reimagine Health, Safety, and Justice: Working at the Intersection of Abolition and Public Health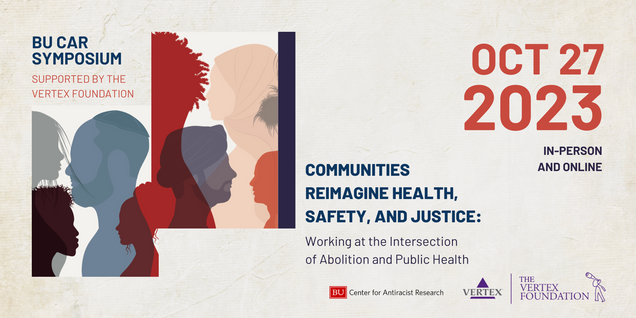 In 2021, the American Public Health Association adopted "Advancing Public Health Interventions to Address the Harms of the Carceral System" a policy statement that outlines strategies for "moving toward the abolition of carceral systems and building in their stead just and equitable structures that advance the public's health." 
On October 27, 2023, the BU CAR Symposium, supported by the Vertex Foundation, returns for a free, hybrid program on the topic Communities Reimagine Health, Safety, and Justice: Working at the Intersection of Abolition and Public Health. In this day-long convening, we explore how communities, advocates, scholars, and policymakers are working at the intersection of abolition and public health to create an antiracist future where everyone thrives.
This is a free in-person and online event. Register here.
Schedule
9:00am – 10:00am EST
Registration and continental breakfast
---
10:00am – 11:00am EST
Opening Panel: The intersection between public health and abolition (will be live-streamed for virtual attendees)
The opening session will establish the intersection between public health and abolition. Speakers will reflect on the harms of the carceral system and describe some of their efforts to undo those harms through abolitionist practices and public health approaches.
---
11:15am – 12:45pm EST
Breakout sessions organized around three of the public health strategies identified in the APHA statement: 1) Decarceration; 2) Shifting investments from the carceral system to housing, employment, food systems and other mechanism for creating healthy communities; 3) Investing in non-carceral measures for accountability, safety, and well-being. 
---
1:00pm – 3:00pm EST
Lunch, rest, and networking (participants can explore the many local lunch options)
---
3:00pm – 4:00pm EST
Closing Panel: This is just the beginning: One Million Experiments* (will be live-streamed for virtual attendees)
The closing panel will sketch out a vision for continuing and expanding the work of reimagining the underlying systems that produce harm, criminalization, and incarceration and replacing them with alternatives that create health, well-being and safety for individuals and communities.
*One Million Experiments is a joint project of Interrupting Criminalization and Project Nia.