The Emancipator Wins Two Telly Awards for Video Commentaries on Racial Justice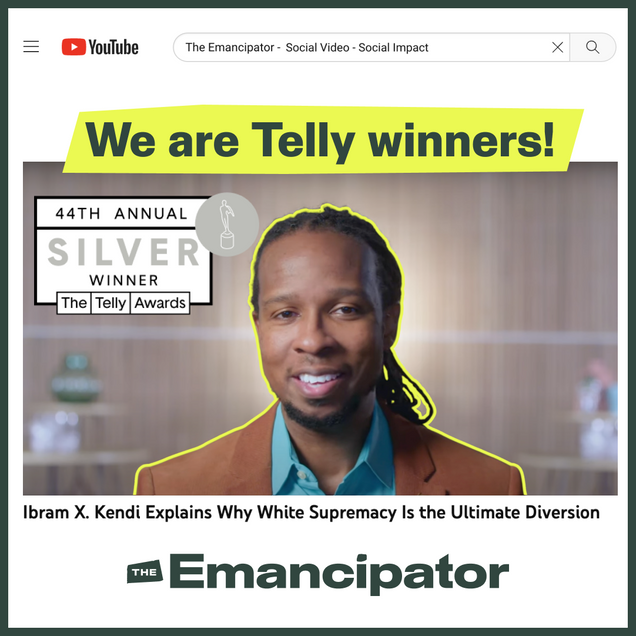 BOSTON May 23, 2023  The Emancipator, a media project of Boston University's Center for Antiracist Research that explores solutions to racial inequality, has been named the recipient of two 2023 Telly Awards for its social media video commentaries. "Ibram X. Kendi Explains Why White Supremacy is the Ultimate Diversion," won a silver award in the general social video/social impact category, while a collection of highlights from the series received a bronze. 
The award-winning series includes:
"We developed these social videos as a hybrid of explainers and commentaries, where you get a compelling, evidence-based argument and a provocative takeaway. They're meant to be shareable and digestible, and have featured voices ranging from scholars to activists to everyday people with something important to say," said Amber Payne, publisher/general manager of The Emancipator. "We just celebrated our first-year anniversary and are thrilled to receive this recognition so early on in our existence. These awards come on the heels of a recent Webby Award nomination for our social media presence, so we're excited to see momentum building in support of our work." 
Other Telly Award winners include some of the world's largest brands, media outlets and organizations, including Disney, Netflix, PBS, The Smithsonian Institution, NPR, BBC and National Geographic Society. Winners were selected from nearly 13,000 entries from across the globe, with submissions flowing in from the US, Middle East, UK, Canada, Malaysia, Taiwan and Hong Kong, and as widespread as Afghanistan, Sweden, New Zealand, Jamaica, and South Africa. 
ABOUT THE EMANCIPATOR
The Emancipator is a reimagining of the first abolitionist newspaper in the United States with a focus on explaining and identifying solutions to structural racism. The publication is housed within the Center for Antiracist Research at Boston University and is provided without a paywall. Co-founded by Dr. Ibram X. Kendi and Boston Globe Opinion, The Emancipator features original perspectives from leading scholars, journalists and community members engaged in exploring solutions to racial inequality and its intersections. 
ABOUT THE TELLY AWARDS
The Telly Awards is the premier award honoring video and television across all screens. Established in 1979, The Telly Awards receives over 12,000 entries from all 50 states and 5 continents. Entrants are judged by The Telly Awards Judging Council — an industry body of over 200 leading experts including advertising agencies, production companies, and major television networks, reflective of the multi-screen industry The Telly Awards celebrates.
Partners of The Telly Awards include NAB, SeriesFest, Stash Media and Production Hub.
CONTACT:
Cristal Balis
Media Liaison