How to support independent bookstores (even during a pandemic)
Posted April 2020
Allison Moore (COM'09) is an editor at Bloomsbury Children's Books in New York, where she works with authors and illustrators to create books that make kids and teens fall in love with reading, see themselves in great stories, and find windows to diverse experiences and points of view. You can connect with her on Twitter at @allisonm610.
One of my favorite things to do when I travel and walk around the city (back when we all could travel and walk around the city…) is visit local independent bookstores. I buy more books than could ever fit on my apartment shelves, collect coffee mugs from my favorite stores, and even keep a Google map of all those I've seen and want to visit. From The Booksmith in San Francisco, Elliott Bay Book Company in Seattle, Green Bean Books in Portland, and Books & Books in Miami to Books Are Magic, Bluestockings, and Three Lives & Company here in New York, each store has offered a unique personality and a common spirit of community and excitement about connecting readers with the perfect selections to enjoy. Some of my favorite stores from my time at BU were Brookline Booksmith in Coolidge Corner, Trident Booksellers & Café on Newbury Street, and Porter Square Books right across the river.
There's nothing better than indie bookstores. They tuck little recommendation cards all over, host book talks and book clubs and storytimes for readers of all ages, and sometimes even have cozy nooks you can sit and sample your selections in. They're filled with book people having spirited conversations about their recent favorites, and they always sell the very best tote bags. Their booksellers know the shelves inside and out, and countless times have offered me just the right recommendation for my next read or gift for a hard-to-shop-for family member or friend. And, most importantly, indie bookstores are part of the community, helping to grow the local economy, offering a place to gather, linking with school fundraisers and donating portions of their sales to local programs (like Greenlight's civic engagement series), providing jobs to neighbors (like Words Bookstore's vocational training program for people with autism), and getting to know every child, adult, and proud grandparent who walks through their doors. It may cost a few extra dollars to buy from an indie sometimes, but if you can swing it, it's worth it. You're paying for so much more.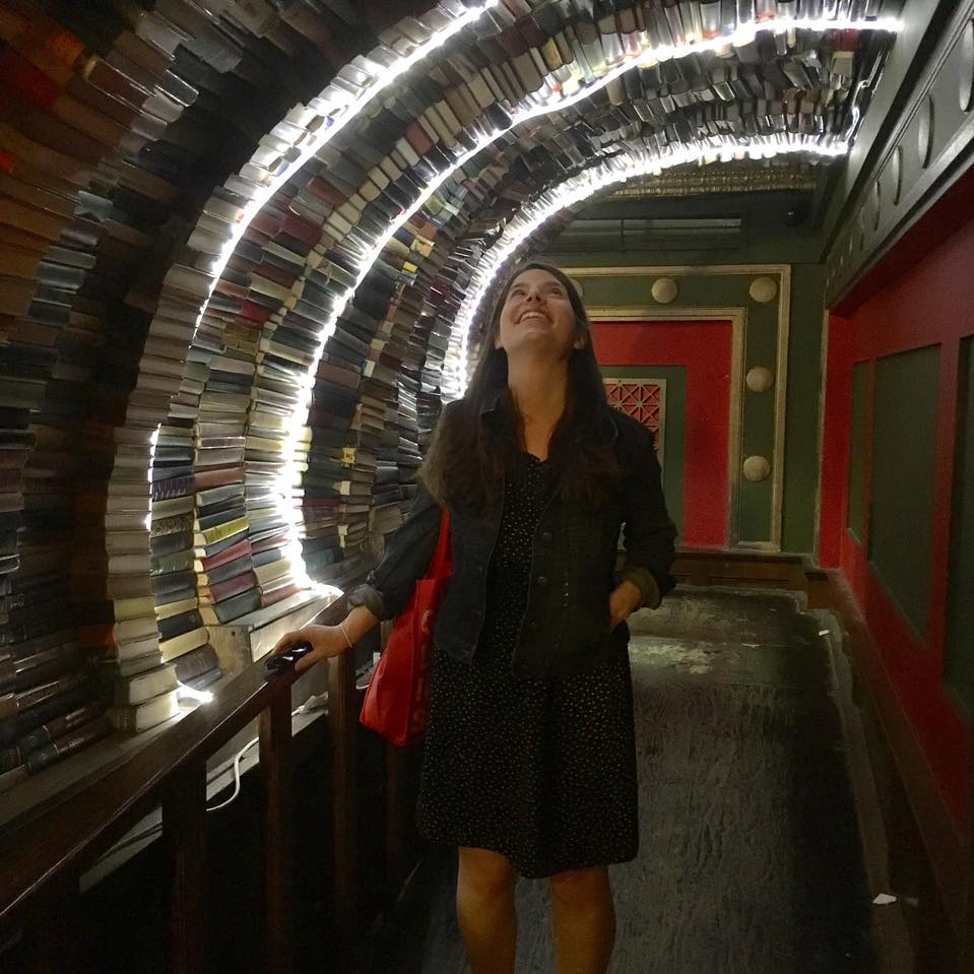 Contrary to some people's beliefs, independent bookstores were not dying, even in the age of online entertainment. But now, as our country grapples with the COVID-19 crisis and each state sets shelter-in-place orders, these and other nonessential small businesses face particular hardship. Hundreds of stores across the country have been forced to close their doors to customers, losing money and confronting staff layoffs and fears they will not be able to reopen for months. While I'm glad shoppers are staying off our busy streets and subways to protect essential workers at this scary time, it breaks my heart to think that some of these stores might not make it through to the other end.

But all is not lost! There are many ways to support these wonderful stores from the comfort of your couch. Here's what you can do (now, and later, too):
Order from your local store online. Even as most bookstores have shut their doors to physical browsing, many are still shipping and making personal recommendations over the phone. Check the website for your local store to see if they're continuing to process online or pickup orders. Some stores even have innovative book-recommendation programs—you can order a fun surprise for yourself or a friend like a romance care package from The Ripped Bodice in LA , a mystery box from The Book Loft in Columbus,  a children's book collection from Changing Hands in Phoenix, or a subscription to the YA book-of-the-month program at Parnassus Books in Nashville, the Baby's First Year program at Blue Willow Bookshop in Houston, or the signed first editions club at Interrobang Books in Dallas.
Bookmark the new Bookshop.org. Bookshop is a one-stop shop hosting a large group of indie bookstores, offering them the ability to handle orders remotely. Each store gets a cut of overall sales and an additional portion of any purchase made through their individual Bookshop page, where staff can recommend specific titles. The site, launched in beta earlier this year, has already raised over $500,000 for bookstores across the country. Browse the site for board books for woke babies from The Lit Bar in the Bronx, indoor activity books from Solid State Books in DC, feel-good picks from White Whale Bookstore in Pittsburgh, local bestsellers from Astoria Bookshop in Queens, and more.

If you work for a nonprofit, media source, or other organization that celebrates or reviews books—I know so many BU alums who do! —also check out Bookshop's affiliate program, where anyone can create a digital storefront with themed shelves to share books they recommend (and receive a portion of every sale). You can group books however you'd like: favorite LGBTQ reads, smart anti-racism resources, fantastic fiction, books about college hockey or Boston terriers… whatever topic would appeal to your audience.
Order audiobooks through Libro.fm. They send a portion of each sale to independent bookstores, too. (Right now, donations through

Libro.fm

even get you a fun pair of book-themed socks.)
Spread the word about books you love… and think about your links. Whenever you mention a book in an article, a review, or your own social media pages, consider adding a link to a local indie or Bookshop.org to send interested readers their way. (This month, I'm spreading the word about two fantastic books I edited by author and fifth-grade teacher Sandy Stark-McGinnis, both out April 28th: the brand-new The Space Between Lost and Found and the paperback of her acclaimed debut Extraordinary Birds.)
Got enough to read right now? It's a great time to order books for later, or to brighten someone else's day.
Treat yourself to a preorder or gift card. Order a book that isn't out yet, or give yourself book money for later! The store will benefit from the sale now, but won't need to worry about shipping anything to you.

Your future read will be a nice surprise in the mail when everything settles down.

(For teens, I recommend the upcoming Never Look Back by Lilliam Rivera and The Cat I Never Named: A True Story of Love, War, and Survival by Amra Sabic-El-Rayess with Laura L. Sullivan.)
Gift books to friends and kids stuck inside. Know of any birthdays coming up? Need a Mother's Day or Father's Day idea? Consider sending a book or gift card. And check in with friends at nonprofits and schools to see if they know of families facing exceptional economic hardship or public food distribution programs that could use book donations.
Donate straight to the Save Indie Bookstores campaign. In partnership with the American Booksellers Association and the Book Industry Charitable Foundation, this initiative will provide direct financial support to help bookstores survive this crisis.

(

Many stores

, including

Papercuts in Jamaica Plain

and

I Am Books in the North End

, have also posted individual GoFundMe campaigns.)

Use hashtag #SaveIndieBookstores to spread the word.
And when this is over…
Visit in person and thank your indie booksellers for helping to bring your community to life. Independent Bookstore Day has been tentatively rescheduled for August 29—consider stopping by your local store, and make a habit of returning!

For now, I encourage you to stay home if your job enables you to, and cuddle up with a great book. Feel free to connect with me on Twitter to ask for book recommendations and share your favorite local stores—I'll add them to my list!
(And P.S. —If you can't afford to purchase books right now, that's okay. But remember it's a tough financial time for all, including your favorite authors. Rather than downloading pirated books off the internet that they'll get no benefit from, try your local library—many are bursting with ebooks available to borrow and enjoy.)
Want to be a guest writer? Email us at alumsocial@bu.edu