Raising a glass to the man behind Fuller's BU Pub
It's been just over a year since the BU Pub closed for renovations, and its reopening can't come soon enough. During construction, many students and alumni have relocated their happy hours to Cornwall's in Kenmore Square, but nothing can replace the feeling of having a pint in the historic BU Castle. Once the ribbon is cut, the refurbished space will also have a new name. Say hello to Fuller's BU Pub.
The Pub's new namesake has long and deep ties to BU. This is the legend of now the best-known knight in town: Ed Fuller. We'll be honoring the newly renovated and named Fuller's BU Pub during Alumni Weekend. Let us know how you'll be celebrating the grand opening on social media using #ProudtoBU. Hear! Hear!
Who is Ed Fuller?
Educator, author, co-founder, and president are just a few of the titles Edwin D. Fuller has held since his time on Commonwealth Avenue. Today he considers himself "repurposed," not retired, working as a business consultant and president of the Orange County (California) Visitors Association. Fuller (Questrom'68) spent most of his years working in the hospitality industry as Marriott International's president and managing director of international lodging. Along with his many achievements, Ed is a proud BU Terrier. He is the former vice chairman of what is now known as the University Advisory Board, former president of the Alumni Association, and a former trustee. He served as chairman of the School of Hospitality Administration and the Questrom School of Business advisory board for 12 years and is a member of the President's International Advisory Board. How's that for an active alumnus?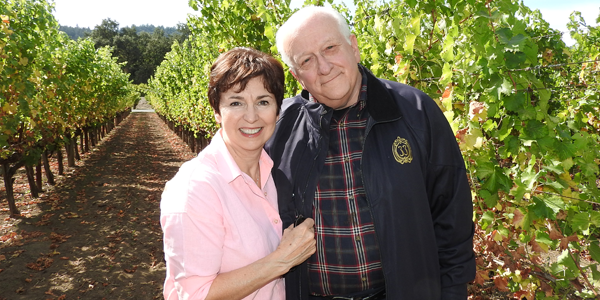 Why give to the BU Pub?
When we asked Ed why he and his wife, Michela, chose to name the Pub with a major gift to the University, his answer was simple: "You need a center that can bring people together." He mentioned that in the last 15 years alumni centers have been popping up at schools across the globe—and what better place to have a pub than under the newly named Dahod Family Alumni Center? Ed rehashed the many memories he has with a pub or bar at their heart. As an undergrad, he was a regular at the Dugout. Whether he was enjoying a pint while studying or hosting an event with his fraternity, Sigma Alpha Epsilon, you could often find him there. And let's not forget the watering holes he's visited in his professional career, including one that stood out in particular; the Red Ox Inn, in Germany. For Ed, a pub like the one in the Dahod Family Alumni Center is a place to create connections, find common ground, and enjoy a moment of solidarity.
Q & A with Ed
We wanted to get to know Ed a little better, so we sat down with him and chatted. Here are our top favorite questions and answers from the conversation.
One beer on tap, what would it be?
That's easy: Fuller's British beer, of course.
Favorite song request?
"Nowhere to Run" by Martha and the Vandellas.
Best pub tradition?
The answer is simple, great food. Specifically, bar food. It's the hallmark of a great pub. Every watering hole should have a great menu that's unique from the rest. I can't wait to return and see the new menu.
What makes a pub a great pub?
The setting, the background, the serving staff. Cheers (from the TV show) is the classic example: the community of a pub is what makes it successful. When you head over to England or Ireland, the people who frequent pubs do so for that exciting place where people come together, meet and talk, and create new connections.