Now Available: 53.2, The Shape of Things to Come: Africology and the Rise of Afrofuturist Studies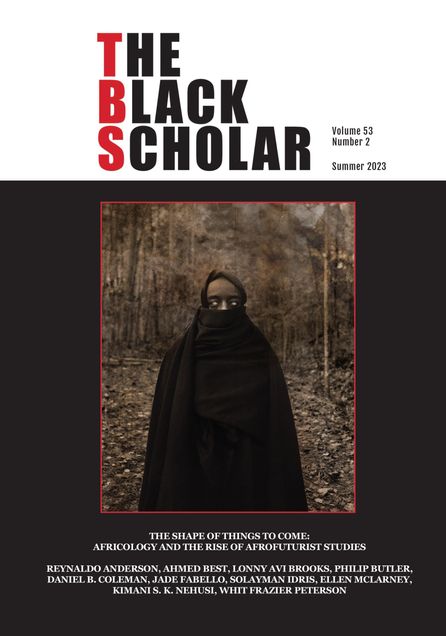 New approaches to African American Studies advance the discipline in the twenty-First Century.
Philadelphia, PA (May 31, 2023) – The next generation of Africology and African American Studies is exploring the growing significance of the generative ideas and intersection of Afrofuturism, Afropessimism, posthumanism, esotericism, metamodernism artificial intelligence, forecasting. and culture.
The theories highlighted in The Shape of Things to Come: The Rise of Afrofuturist Studies articulate the innovative ways Afrofuturist studies is addressing the accelerating rate of change in the African geospatial and geopolitical imagination and how it interacts with a changing world. These theoretical approaches reflect the continuing trajectory of Africans and their diaspora articulating their agency in a twenty-first-century post-American and post-European world world order.
Furthermore, the ideas in this issue build upon what the scholars C.T. Keto, Molefi Kete Asante, and others previously articulated regarding the interrogation of "motifs, symbols, signs, and ideas" of our ancestral and historical legacy to provide guidance for contemporary society and a "Time Map" for the future to come.
-Reynaldo Anderson
For a limited time, access the introduction by guest editor Reynaldo Anderson, and "Black Muslims and the Angels of Afrofuturism" by Ellen McLarney and Solayman Idris for free.
Personal subscriptions are $44 USD and include 4 issues. You can subscribe to our 53rd volume here. A limited quantity of print back issues are available in our store.
Our final issue of 2023 will be a double issue, Unsafe Words: Black Radical Pleasure II. For our 2024 volume, look for Amiri Baraka's Blues People at 60, Black Women's Contemporary Speculative Fiction, Ceddo: Black British Independent Film, and more….