Upcoming Event: Reggaetón Scholarship Today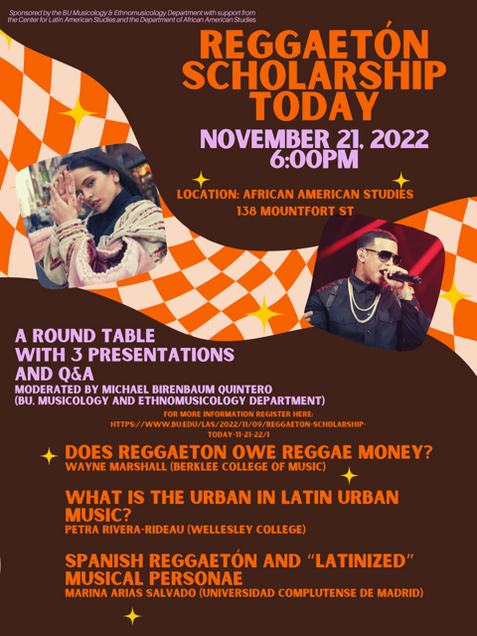 Join us for a Round Table of 3 Reggaetón-based presentations moderated by Professor Michelle Birenbaum Quintero and given by Wayne Marshall (Berklee College of Music), Petra Rivera-Rideau (Wellesley College) and Marina Arias Salvado (Universidad Complutense de Madrid).
When: November 21, 2022 at 6pm
Location: TBD
Does Reggaetón Owe Reggae Money? – Wayne Marshall
Having been approached by all sides in the ongoing lawsuits, Reggaetón scholar and expert witness Wayne Marshall will sift the claims of musical ownership at the heart of the case in order to shed light on its legal and cultural ramifications.
What is the Urban in Latin Urban music? –  Petra Rivera – Rideau
As reggaetón grew more popular, the genre became subsumed under a new "Latin Urban" music category in music industry venues such as the Latin Grammys. Although the new classification nods to the urban roots of reggaetón, the Latin Urban designation also obscures afrolatinidad and reggaetón's earlier African diasporic orientation. In turn, the shift to Latin urban replicates old discourses of mestizaje that stress mixture and fusion in ways that bring Latin American cultures closer to a whiteness defined by Western modernity.
Spanish Reggaetón and "Latinized" Musical Personae? – Marina Arias Salvado
The ability of Spanish artists to navigate between different identities and, hence, different music markets, results in a complex interaction between Spanish and Latina/o identities and reggaetón which deserves a deeper analysis. This presentation seeks to understand how Spanish artists appropriate reggaetón music and how this process affects their identity construction as "Latinas/os" from a mainstream US perspective.
Register on LAS's website.