Save the Date: Fierce as Death & Bent Like a Question Mark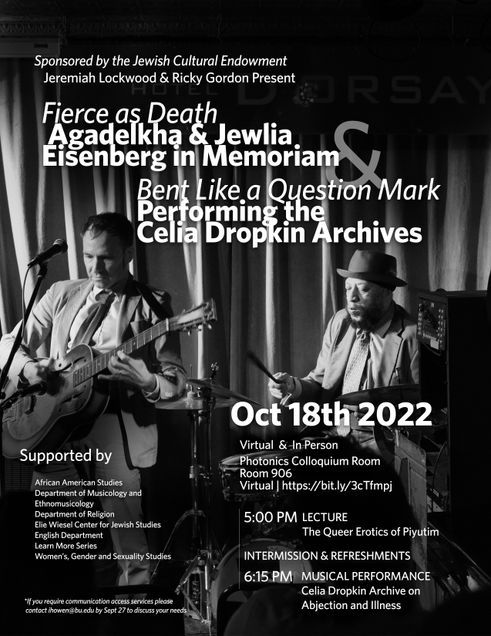 Join us on Tuesday, October 18th for this two-part event sponsored by the Jewish Cultural Endowment!
5:00 PM: "Fierce as Death: Agadelkha and Jewlia Eisenberg in Memoriam": Lecture delivered by Jeremiah Lockwood
This lecture explores the queer erotics of "Agadelkha," a piyut by ibn Ezra and part of a larger project called "queer piyutim" pioneered by Eisenberg and collaboratively realized with Lockwood.
6:15 PM: "Bent Like a Question Mark: Performing the Celia Dropkin Archives": Musical performance by Jeremiah Lockwood and Ricky Gordon
A musical performance by renowned musicians Jeremiah Lockwood and Ricky Gordon, staging the work of Book of J (a Jewlia Eisenberg and Jeremiah Lockwood collaboration). As Book of J, Eisenberg and Lockwood set Dropkin's papers to music during an artist residency at YIVO Institute for Jewish Research in 2018.
Location: In-person at 8 St. Mary's Street, Boston, MA 02215, Photonics Colloquium Room, Room 906. Virtually via Zoom. Register here.
Sponsored by: The Jewish Cultural Endowment
Supported by: African American Studies Program, Department of Musicology and Ethnomusicology, Department of Religion, Elie Wiesel Center for Jewish Studies, English Department, Learn More Series, Women, Gender and Sexuality Studies.