Danielle Annecston
Program Manager: Australia, China, Israel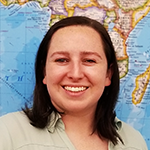 As Program Manager, Danielle Annecston is responsible for programs in Sydney, Auckland, Shanghai, Haifa, and Rabat. Her responsibilities include serving as the primary contact for each of these programs, assisting in applicant recruitment, responding to program inquiries and issues, admissions, managing pre-departure programming, and liaising with site staff members.
Prior to joining BU, Danielle worked as an Admissions Coordinator at the Council on International Educational Exchanges (CIEE Study abroad). She oversaw programs in the Czech Republic, The Netherlands, Russia, and Hungary, among others. Danielle also works as a Resident Advisor at Showa Boston, a Japanese satellite university.
Danielle holds a Bachelors of Arts in Public Relations and Communication Marketing from Simmons University. She studied abroad in Copenhagen and learned the style of hygge. She's since traveled through multiple parts of Europe on her own adventures. She loves learning new cultures and food recipes.