Wiebke Denecke
Professor of East Asian Literatures & Comparative Literature, Affiliated with Classical Studies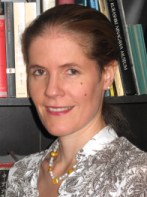 Title

Professor of East Asian Literatures & Comparative Literature,
Affiliated with Classical Studies

Office

STH 638

Email

denecke@bu.edu

Education

BA, George August University, Göttingen (Germany)
MA, George August University, Göttingen (Germany)
PhD, Harvard University
ON LEAVE 2018-2019 ACADEMIC YEAR

Professor Denecke is Visiting Professor at Korea University (Seoul) and Visiting Scholar at Keio University (Tokyo) during the academic year 2018-2019. 
Wiebke Denecke (魏樸和) was trained in Sinology, Japanology, Korean studies, philosophy, and medicine in her native Germany, in Hungary, Norway, Dalian, Taipei, Tokyo, and Seoul. She received her BA and MA from the University of Göttingen and her PhD from Harvard University. Her research and teaching encompasses classical literature and thought of China, Japan, and Korea, comparative studies of East Asia and the premodern world, world literature, and the politics of cultural heritage and memory.
She is interested in fundamental questions involving comparisons of early thought traditions of philosophy, persuasion, and rhetoric; poetry and poetics; court cultures; the development of literary traditions in multiliterate environments; literature, cross-cultural encounters, and diplomacy; and the creative recapturing of ancient East Asian traditions in the global present.
Her book The Dynamics of Masters Literature: Early Chinese Thought from Confucius to Han Feizi(Harvard University Press, Asia Center, 2011) argues that the desire for a Chinese equivalent for Western philosophy has warped our understanding of early Chinese thought, and shows how texts like the Confucian Analectsor the Laozican instead be read as part of a distinctive Chinese genre of "Masters Literature." Her second book, Classical World Literatures: Sino-Japanese and Greco-Roman Comparisons(Oxford University Press, 2014), examines the development of younger literatures vis-à-vis older, authoritative "reference cultures" by comparing the way early Japanese authors wrote their texts through and against Chinese literary precedents to the way Latin authors appropriated Greek literary precedents.
Denecke is broadly interested in the development of concepts of "Literature" (文学) in East Asia, and her collaborative publications on this topic invite aim to rediscover the world of premodern "Letters" (文) as a realm of cultural commonalities between China, Japan, Korea, and Vietnam, in this current moment, when national ideologies and the aftermath of 20thcentury atrocities overshadow the distinctive shared East Asian cultural heritage. To this effect she co-published The Concept of "Letters" and "Literature" in Japan (日本における文とブンガク Nihon ni okeru bun to bungaku) (with Kōno Kimiko; Tokyo: Benseisha, 2013), and the three-volume revisionary literary history A New History of Japanese "Letterature"(日本「文」学史 Nihon "bun"gakushi) (with Kōno Kimiko, Shinkawa Tokio, and Jinno Hidenori; Benseisha, 2015-). The third volume, From "Letters" to "Literature": Re-configuring East Asian Literatures (2019), is a first-of-its-kind comparative literary history of China, Japan, and Korea from the early modern period to our moment. She is co-editor of The Oxford Handbook of Classical Chinese Literature. 1200 BCE-900 CE (with Wai-yee Li and Xiaofei Tian. New York: Oxford University Press, 2017) and co-editor of the first volume of The Wiley-Blackwell Companion to World Literature (under the general editorship of Ken Seigneurie, 5 vols. Scheduled for publication in 2019).
Denecke is one of the editors of The Norton Anthology of World Literature and The Norton Anthology of Western Literature (under the general editorship of Martin Puchner). With Zhang Longxi she is curating the book series East Asian Comparative Literature and Culture  (Leiden: Brill).
Denecke has received grants from the Mellon Foundation, the ACLS, German Merit Scholarship Foundation, the DAAD, and the Japan Foundation. Before coming to BU she taught at Barnard College/Columbia University. She was a member of the Society of Fellows at Columbia University; a member of the Institute for Advanced Study, Princeton; a visiting professor at Dōshisha University (Kyoto); and is currently visiting professor at Korea University (Seoul). Most recently she received a "New Directions" Fellowship from the Andrew W. Mellon Foundation.
She is currently working on projects exploring the relation of early Japanese literary culture to China and Korea, on translations of Sino-Korean poetry collections, on conceptual comparative approaches to East Asia's Sinographic Sphere, and on visions for the global transformation of the humanities.
Wiebke Denecke's CV
COURSES
China
LC 250                      Masterpieces of Classical Chinese Literature
LC 280/ RN361      The Chinese Classics in Today's World
LC/LJ/LK 314         Classical Chinese for Students of East Asia
LC 316                      Topics in Classical Chinese
LC 470                      China's Cosmopolitan Tang Empire
Japan
LJ 250                       Masterpieces of Japanese Literature
LJ 316                       Classical Japanese
LC/LJ/LK 314        Classical Chinese for Students of East Asia
LJ                              Walking the Streets of Kyoto: Japan's Literary Capital
LJ 451                       Living Heian Japan
Korea (see also under East Asia)
LC/LJ/LK 314         Classical Chinese for Students of East Asia
East Asia and comparative courses
XL 224                      Introduction to Comparative Literature: East     Asia
LC/LJ/LK/LZ/XL 260   Gateway to Asian Cultures
LC/LK/XL 470/LJ 451  Immortals, Drop-outs, Courtiers in East Asian Literature
LC/LK/XL 470/LJ 451 Trauma, Memory, Literature East and West
RECENT NEWS & CLIPS
"A New Approach to Understanding Classical Literary Cultures: Professor Denecke publishes The Oxford Handbook of Classical Chinese Literature"
"Professor Denecke Publishes First Volume of a Revisionary History of Japanese Literature: a New History of Japanese "Letterature"
"Reclaiming a Common Language: How a New Literary History Could Help Salve Wounds in Asia." Interview on Mellon New Directions Fellowship
"A New Take on World Literature: Editor Widens Net to Capture Voices from around the World." Interview about Norton Anthology of World Literature (2012)

"Chinese philosophy meets Korean Wave: Professor Wiebke Denecke Featured in a Korean TV Series on Ancient China's Greatest Thinkers"
BOOKS: