The Earl Center for Learning & Innovation
New Variables = New Problems = New Solutions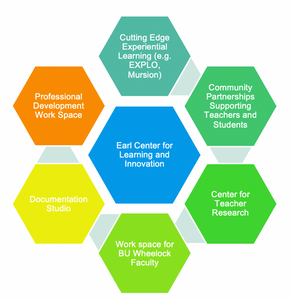 The Earl Center for Learning and Innovation serves to support and enhance teaching and learning through action research and hands-on inquiry to transform learning for all. The center will serve BU Wheelock College and the community in the following in ways:
Serve as a foundation for short- and long-term initiatives that support the professional development of in service and pre-service educators in conjunction with Aspire Institute
Support the incubation process of BU Wheelock faculty, students, and Alumni' innovations
Assist in all levels of BU Wheelock faculty, students, and Alumni action research
Develop, model, and test alternative forms of assessment in order to make learning visible and meaningful.
Leverage and mobilize all innovations from BU Wheelock to BU Alumni, stakeholders, and the greater educational community.
Overall the Earl Center will support the generation, development, and piloting of new ideas that can create a meaningful impact in the teaching, learning, and support of education in any and all areas of BU Wheelock. The Earl Center is a safe, intellectual and physical space that will provide faculty, staff and students the opportunity to engage in experiential learning programs and workshops and to develop a wide range of knowledge and skills that differ from the traditional education experience.