Yasuko Kanno
Associate Professor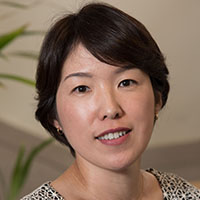 Yasuko (pronounced "Yasko") Kanno is an Associate Professor of Education at Boston University, where she also directs the TESOL Licensure Program. Her research focuses on English language learners' access to postsecondary education and how K-12 public schools shape ELLs' postsecondary trajectories. Prior to arriving at Boston University, she was Associate Professor and Program Coordinator of the TESOL Program at Temple University, overseeing the Ph.D., Master's, and certificate programs in TESOL.
Dr. Kanno is the author of three books and has published extensively in high-impact journals, including a 2014 American Educational Research Journal article for which she received the 2015 TESOL Award for Distinguished Research. She is currently working on journal articles based on her three-year ethnographic study of high school ELLs' transition to college. Dr. Kanno is also Co-Editor of the Journal of Language, Identity, and Education.
Education
Ph.D. in Education, Ontario Institute for Studies in Education/University of Toronto
M.A. in Linguistics, Keio University
B.A. in French, Keio University
Courses
BI515: Methods in Bilingual Education
TL508: Methods in Teaching English as a Second Language
BI620: Educational Issues in Bilingual Education
Research
Dr. Kanno studies immigrant English learner (EL) students' access to postsecondary education. She is interested in how EL students negotiate their transition from high school to college/vocational training and how high schools facilitate or hinder this process. Information on some of Dr. Kanno's projects is below:
English Learners' Transition from High School to Postsecondary education: An Ethnographic Study
Nearly 50% of English native speakers advance to four-year colleges immediately upon high school graduation whereas only one in five English learners (ELs) have direct access to four-year colleges. On the other hand, almost half of ELs never experience postsecondary education. Dr. Kanno conducted a three-year ethnographic study following eight EL students at a large public high school in Pennsylvania in order to investigate why ELs' access to postsecondary education is so limited. She is currently writing and publishing a series of journal articles from this study (Kanno, in press; Kanno & Kangas, 2014). Some of the factors that inhibit ELs' access to college include: institutional barriers preventing ELs from taking advanced college-preparatory courses; students' and parents' lack of college knowledge with which to navigate the college planning and application processes; and ELs' own linguistic insecurity about their English.
Massachusetts's High School English Learners' Access to College-Preparatory Courses: 
Is EL Status a Hindrance? (with Dr. Marcus Winters)
ELs are the fastest growing subset of the public student population in the U.S. Being identified as an EL is supposed to signal a student's eligibility for extra language services; states and school districts are legally mandated to provide ELs with sufficient and effective bilingual education or English as a second language (ESL) programs, so that ELs can quickly develop academic language proficiency and gain equal access to educational opportunities. However, recent research suggests that EL classification itself is in fact limiting students' opportunity to learn. Using student data from the Massachusetts Department of Elementary and Secondary Education, Dr. Kanno and Dr. Winters are examining the timing of EL reclassification (i.e., to be institutionally recognized as English-proficient) on high school ELs' access to college-preparatory courses. That is, do ELs need to be reclassified before high school entrance in order not be disadvantaged by their EL status in their high school curriculum—or does it have to be as early as 7th grade, or can it be as late as 10th grade? 
EL Gap Year Project (with Mr. Jacob Murray)
Many recently arrived immigrant ELs who want to go to a four-year college cannot because they do not yet have enough English proficiency and familiarity with the U.S. higher education system. Many also do not have access to college-preparatory courses such as honors and Advanced Placement in high school. What happens if we bring a group of EL high school graduates with aspirations for a bachelor's degree to BU for one year, provide them with intense English language and academic preparation while also guiding them through the college application process, and have them apply to four-year colleges for the following year? That is the idea behind the EL Gap Year Project. We are currently developing the program design and seeking funding for the project.
Yasuko Kanno's Faculty Profile
Selected Publications
Kanno, Y. (2018). High-performing English learners' limited access to four-year college. Teachers College Record, 120(4), 1-46.
Nuñez, A,-M., Rios-Aguilar, C., Kanno, Y., Flores, S.M. (2016). English learners and their transition to postsecondary education. In M.B. Paulsen (Ed.), Higher Education: Handbook of Theory and Research, Volume 31 (pp. 41-90). New York: Springer.
Kanno, Y., & Cromley, J. (2015). English language learners' pathways to four-year colleges. Teachers College Record, 117(120306), 1-44.
Kanno, Y., & Kangas, S.E.N. (2014). "I'm not going to be, like, for the AP": English language learners' limited access to advanced college-preparatory courses in high school. American Educational Research Journal, 51(5), 848-878.
Kanno, Y., & Vandrick, S. (Eds.). (2014). Social class in language learning and teaching. Journal of Language, Identity, and Education, 13(2, Special Issue).
Kanno, Y., & Cromley, J. (2013). English language learners' access to and attainment in postsecondary education. TESOL Quarterly, 47(1), 89-121.
Kanno, Y., & Harklau, L. (Eds.) (2012). Linguistic minority students go to college: Preparation, access, and persistence. New York: Routledge.
Kanno, Y., & Stuart, C. (2011). Learning to become a second language teacher: Identities in practice. Modern Language Journal, 95(2), 236-252.
Kanno, Y., & Varghese, M. M. (2010). Immigrant and refugee ESL students' challenges to accessing four-year college education: From language policy to educational policy. Journal of Language, Identity, and Education, 9(5), 310–328.
Selected Presentations
Kanno, Y. (2016, November). English learners' access to postsecondary education and opportunity to learn in high school. Keynote Address, Illinois TESOL Conference, Indianapolis, IN.
Kanno, Y. (2016, October). Neither college nor career ready: English learners' transition to postsecondary education. Keynote Address, Terra Conference on English Language Learners, Buffalo, NY.
Kanno, Y. (2016, April). Latino English-learner students as the underserved third. TESOL Convention, Baltimore, MD. (Colloquium "Latina/o Students' College and Career Readiness" organized by Ann Johns, with L. de Oliveira, T, Ruecker, and G. Kovats).
Kanno, Y., & Cromley, J. (2016, April). English learners' high school academic preparation, community college enrollment, and eventual bachelor's degree attainment. American Educational Research Association (AERA) Annual Meeting, Washington, DC.
Kanno, Y. (2015, March). English language learners, identity, and access to postsecondary Education. Plenary Speaker, American Association for Applied Linguistics Annual Conference, Toronto, Canada.
Kanno, Y. (2014, December). ELLs: Access to higher education and structural barriers. Keynote Address, William Patterson University 34th Annual Bilingual/ESL Conference, Wayne, NJ.