Tina Durand
Clinical Associate Professor
Program Director for Psychology & Human Development (Undergraduate)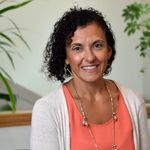 Dr. Durand is a developmental psychologist with a background in community-based programming for families, and early childhood classroom teaching. Her research has examined the school transition experiences of ethnic minority children and adolescents, with a particular focus on the nature of Latina/o parent involvement in children's schooling, Latina/o parents' cultural beliefs about education, facilitating effective partnerships between schools and Latina/o families, and culturally relevant pedagogy. Her work has employed both quantitative (e.g. correlational studies of large and small-scale secondary data) and qualitative (e.g., interview, focus group, and participatory action) methods and analytic techniques, and has included children, parents/families, teachers, community members, and school administrators.
During her past tenure at the former Wheelock College, Dr. Durand was a recipient of both the Gordon Marshall Fellowship for scholarship and the Cynthia Longfellow Teaching Award for excellence in teaching.
Education
Ph.D. in Applied Developmental and Educational Psychology, Boston College
M.Ed. in Curriculum & Instruction, Lesley University
B.A. in Early Childhood, Boston College
Courses
SED HD 330 The Psychology of Race
SED HD 501 Lifespan Development
SED CE 341 Working with Multicultural Populations
Research
Dr. Durand's current research investigates the impact of dimensions of school context- in particular, the racial/ethnic climate- on the school experiences and engagement of early adolescent students of color in two urban middle schools (Roxbury and Worcester), using qualitative methods.
Visit Dr. Durand's Faculty Profile
Selected Publications
Durand, T. M., & Secakusuma, M. (2019, online first).  Negotiating the boundaries of parental school engagement: The role of social space and symbolic capital in urban teachers' perspectives.  Teachers College Record, 121(2).
Durand, T. M.  (2018).  Intersectionality as a framework for understanding school involvement and advocacy beliefs of Latina/o families of young children.  In S. Sonnenschein & B.E. Sawyer (Eds.), Academic socialization of young Black and Latino children:  Building on family strengths (pp. 141-164).  NY:  Springer.
Durand, T. M., & Perez, N.A. (2013). Continuity and variability in the parental involvement and advocacy beliefs of Latino families of young children: Finding the potential for a collective voice. School Community Journal, 23(1), 49-79.
Durand, T. M. (2011). Latina mothers' cultural beliefs about their children, parental roles, and education: Implications for effective and empowering home-school partnerships. The Urban Review, 43(2), 255-278.
Selected Presentations
Durand, T.M. (2019, March).  Immigrant students' perceptions of school racial-ethnic climate:  Variations by years of experience in U.S. schools.  In T. Durand (Chair), The salience of racial-ethnic climate in school for minority youth:  Contributions to adolescent psychosocial outcomes.  Paper symposium to be presented at the biennial meeting of the Society for Research in Child Development, Baltimore, MD.
Durand, T. M.  (2018, October).  "It's not like family, it is family":  Salient aspects of an out-of-school mentoring program for early adolescent boys of color.  Poster session presented at the Society for Research in Child Development Special Topic Meeting, Promoting Character Development Among Diverse Children and Adolescents:  The Roles of Families, Schools, and Out-of-School Time Youth Development Programs, Philadelphia, PA. 
Durand, T.M. (2017, April). "It gives us a chance to master our dreams." Adolescents' perspectives on ethnic climate and racial diversity in middle school. Paper presented at the biennial meeting of the Society for Research in Child Development, Austin, TX.
Durand, T. M., & Evans Josselyn, T. (2016, October). Narratives of Puerto Rican middle school boys regarding salient dimensions of school context: Contradictions and possibilities. Poster session presented at the SRCD Special Topic Meeting: Babies, Boys, and Men of Color, Tampa, FL.
Durand, T. M. (2014, April). Engagement as process: A participatory action partnership between schools, families, and a higher education setting. Roundtable paper discussion presented at the 17th International Roundtable on School, Family, and Community Partnerships, Philadelphia, PA.