Kaylene Stevens Petrin
Lecturer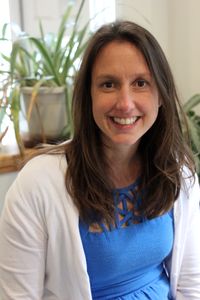 Dr. Stevens was formerly a classroom teacher and Social Studies Department Chair at Framingham High School. At Boston University, her work specialized in teaching about race and using culturally relevant pedagogy in the Social Studies classroom. She completed her doctorate in 2016 from Boston University. Her dissertation research focuses on gender equity in the Social Studies classroom. She currently resides in Framingham with her husband and children.
Education
B.A.  Hamilton College, 2003, Sociology and Communication;
M.A.T.   Union University, 2005, Social Studies;
Ed.D. Boston University, 2016, Curriculum and Instruction
Courses
SO 572
CH 300
CH 515
RS 600
RS 620
Selected Publications
Stevens, K.M. & Martell, C.C. (2019). Feminist social studies teachers:  The role of teachers' background and beliefs in shaping gender-equitable practices.  The Journal of Social Studies Research.   
Martell, C.C. & Stevens K.M. (2018). Becoming a Race-Conscious Social Studies Teacher: The Influence of Personal and Professional Experiences. The Social Studies. 
Martell, C.C. & Stevens K.M. (2018). Perception of Teaching Race and Gender: Results of a Survey of Social Studies Teachers. High School Journal. 
Martell, C.C. & Stevens K.M. (2017). Equity- and Tolerance-Oriented Teachers: Approaches to Teaching Race in the Social Studies Classroom. Theory & Research In Social Education.
Selected Presentations
Stevens, K & Martell C. (April 2016) American Education Research Association (AERA),
Gender Equity in Social Studies: An Analysis of Teachers' Beliefs and Practices
Martell C. & Stevens, K. (April 2016) American Education Research Association (AERA), A Survey of Teachers Perceptions of Race and Gender in Social Studies
Martell C. & Stevens, K. (April 2016) American Education Research Association (AERA), The Beliefs and Practices of Race-Conscious Social Studies Teachers
Martell, C. & Stevens, K. ( November 2015) National Council for the
Social Studies (NCSS) College and University Faculty Assembly, The Personal and Professional Experiences of Race-Conscious Teachers
Stevens, K. (November 2014) National Council for the Social Studies
(NCSS) College and University Faculty Assembly, A Unique Place: Teacher beliefs and Practices teaching gender in the Sociology classroom
Stevens, K. (November 2014) National Council for the Social Studies
(NCSS) College and University Faculty Assembly, The decision of out: Understanding the decisions of disclosure for gay male teachers
Martell, C. & Stevens, K. (November 2014) National Council for the
Social Studies (NCSS) College and University Faculty Assembly, Using Teacher Research in the Social Studies Classroom
Stevens, Kaylene (October 2014) Diversity Challenge: "Racial or Ethnic
Discrimination across the Lifespan", Boston College, Teaching Race in the
classroom
Stevens, K. (2014) Boston University, School of Education, Student Research
Conference, Poster, A Unique Place: Teacher beliefs and Practices teaching gender in the Sociology classroom
Stevens, K. (2013) Harvard Graduate School Education Student Research
Conference, Through the Looking Glass: Truth and Context in Education Research, Teacher disclosure in the classroom