Christine Montecillo Leider
Clinical Assistant Professor
Program Director for Bilingual Education & TESOL Education (Licensure)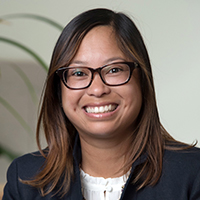 Dr. Leider is a Clinical Assistant Professor of Language Education and the Program Director of Bilingual Education and TESOL Licensure at Boston University. Professor Leider's work focuses on supporting both student teachers and practicing teachers in developing the theoretical foundations, critical perspectives, and research-based instructional tools for working with culturally and linguistically diverse students. Her research focuses on bilingual language and literacy practices, developing bilingual models of reading comprehension, contexts of bilingual and immigrant student development, and re-conceptualizing the field's understanding of how we assess measure, and understand bilingualism & biliteracy.

Dr. Leider collaborates with teacher educators and practicing teachers in Massachusetts around advocating for bilingual students at the classroom, school, and policy level.  Dr. Leider is an elected member of the MATSOL Board of Directors and an appointed member of the Massachusetts Department of Elementary and Secondary Education English Learner / Bilingual Advisory Council. She also serves as the Faculty Advisor for both the Bilingual Education Student Group at BU Wheelock and the Boston University's Pan-Asian Alliance Student Group .
Dr. Leider's current research projects include the ICMEE Project, a federally funded National Professional Development grant on which she serves as the Lead Evaluator; she is also the Co-PI on a project examining classified/reclassified English Learners' access to four-year college in the Greater Boston Area. Dr. Leider's engaged scholarship includes professional development and collaboration with classroom teachers in Massachusetts on developing anti-racist, culturally/linguistically responsive, and inclusive curricular and instructional practices that support bilingual students' language and literacy development.  Dr. Leider also collaborates with teacher educators and advocates on addressing issues of equity and diversity in ESL and SEI Teacher Education.
Appointments:
Massachusetts Association of Colleges for Teacher Education (MACTE)
MATSOL Representative on the Board of Directors
Massachusetts Department of Elementary and Secondary Education
English Learner/Bilingual Advisory Council
Elected Co-Chair and Appointed Member
Massachusetts Department of Elementary and Secondary Education
Research Advisory Council for Culturally and Linguistically Diverse Learners
Member
Massachusetts Educators for English Language Learners (MATSOL)
Chair, Teacher Education-SIG
Elected Member of the Board of Directors
Education
Ph.D. in Curriculum & Instruction, Boston College
M.A. in Applied Developmental & Educational Psychology, Boston College
B.A. in Psychology and Spanish, University of Portland
Courses
BI515: Methods in Bilingual Education
BI530: English Language Development: Grade 5-12 English Language Learners
BI535: Literacy Development for English Learners: Instruction & Assessment
BI575: Historical & Contemporary Perspectives in Bilingualism
BI570/620: Issues in Bilingual Education
TL508: Methods in Teaching English as a Second Language
TL525: Teaching English Language Learners in Middle School and High School
TL580/581: Student-Teaching Practicum I/II: ESL PreK-6
TL582/583: Student-Teaching Practicum I/II: ESL 5-12
Research
Professor Leider has three main strands of scholarship: her first strand of work is focused on multilevel growth modeling of English language and reading development for bilingual students, specifically examining how growth trajectories vary as a function of different contextual factors; her second strand of work examines promising practices in ESL, SEI, and Bilingual Education, specifically around moving away from deficit based perspectives and moving toward an asset based pedagogy for multilingual and immigrant children; her third line of work is around examining structural issues of equity in the education, specifically looking at how policy and interpretation of policy can impact the education experience for multilingual learners.
At present, I work on two funded projects. First, I am the Lead Evaluator and member of the research strand on the International Consortium for Multilingual Excellence in Education (ICMEE), a federally funded grant that is a collaboration across 5 states and Germany; more on ICMEE is available here: https://cehs.unl.edu/icmee/. I am also the Co-PI on a project examining how socio-economic status (at the student and school level) can impact access to four year college for classified and reclassified English Learners.
In addition to funded work, I currently work with a peer group of teacher educators who are focused on addressing structural inequities in education, particularly for multilingual students of color.
Visit Dr. Leider's Faculty Profile
Selected Publications
Colombo, M., Tigert, J., & Leider, C.M. (in press). Positioning Teachers, Positioning Learners: Why We Should Stop Using the Term "English Learners". TESOL Journal.
Leider, C.M., Proctor, C.P., & Silverman, R. (in press). Language and Reading Growth Trajectories: Does Immigrant Generation Status Moderate Linguistic Interdependence? International Journal of Bilingual Education and Bilingualism.
Leider, C.M. (2018). Bilingualism through the public eye. MATSOL Currents, 41.
Ennser-Kananen, J. & Leider, C.M. (2018). Stop the deficit: Preparing Pre-Service Teachers to Work with Bilingual Students. In P. Romanowski & M. Jedynak (Eds.), The Many Faces of Bilingualism- Living with Two Languages.  
Columbo, M., Chumley, J., Leider, C.M., & Abraham, P. (2017). ESL Teachers Matter! MATSOL Currents, 39(2), 26-28.
Leider, C. M., Proctor, C.P., & Silverman, R.D. (2014). The Biliteracy Translation Measure: Using written translations to index bilingualism and biliteracy in Spanish and English. NYS TESOL Journal, 1, 9-24.
Leider, C.M., Proctor, C.P., Silverman, R.D., & Harring, J. (2013). Examining the role of vocabulary depth, cross-linguistic transfer, and types of reading measures on the reading comprehension of Latino bilinguals in elementary school. Reading & Writing: An Interdisciplinary Journal, 26, 1459-1485.
Louick, R., Leider, C.M., Daley, S. & Proctor, C.P. (2016). Motivation for Reading Among Struggling Middle School Readers: A Mixed Methods Study. Learning and Individual Differences
Selected Presentations
Leider, C. M. & Colombo, M. (2019). How do States measure Up to the Casteňeda Standard?: Resources and Evaluation. Paper to be presented at the annual meeting of the American Education Research Association, Toronto, CA.
Leider, C.M. & Schantz, M. (2018). Student Identity and Learning: Integrating Language, Content, and Social Justice. Presentation at the annual conference of the WIDA Consortium, Detroit, MI.
Leider, C.M. (June 2017). Beyond Pedagogical Methods: Developing Critical Perspectives with ESL Teacher Candidates. Workshop presented at the annual meeting of the Massachusetts Educators of English Language Learners, Framingham, MA.
Leider, C.M. (May 2017). What about Spanish?: Examining Language Growth Trajectories among First, Second, and Third Generation Latino Immigrants. Paper presented at the annual meeting of the American Education Research Association, San Antonio, TX.
Phillipson, K., Trent, T., Leider, C.M., Klein, J., & Levit, A. (March 2017). Leveled Functional Language Frames for Everyday Use. Paper session conducted at the annual meeting of the TESOL International Association, Seattle, WA.
Leider, C.M., Martins, M., Lopez-Schmitt, G., Silva, C., & Ross, M.  (October 2016). Stop the Deficit: How do we honor and value bilingual individuals in the United States? Symposium conducted at the 2016 Annual Diversity Challenge Conference at Boston College, Chestnut Hill, MA.