J. Keith Vincent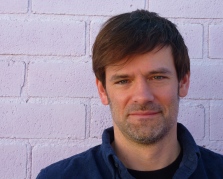 Associate Professor of Japanese and Comparative Literature
Convener of Japanese
BA, University of Kansas
MA, Columbia University
PhD, Columbia University
J. Keith Vincent's research examines how new understandings of sexuality and gender were reflected in and produced by changing literary forms in the modern period.  While his work focuses mostly on the modern Japanese novel, he often teaches and writes about British, French, Chinese, German, and Korean texts as well.  His theoretical interests include queer theory, novel theory, narratology, psychoanalysis, and the history and theory of translation.
His book manuscript, Two-Timing Modernity: Homosocial Narrative in Modern Japanese Fiction, shows how five twentieth-century novelists deployed innovative narrative techniques capable of encompassing the ambivalence and tensions characteristic of Japan's newly heteronormative modernity. It argues that for much of the twentieth century in Japan, male-male sexuality was no longer a recognizable literary trope and not yet a source of identity, but an early stage of a narrative of sexual maturation often imagined to parallel modern Japan's own emergence from a "barbarous" and "perverse" past.
He is the co-author of Gei Sutadiizu (Gay Studies, Seidosha 1997) and the editor (in 1998) of a collection of lesbian and gay studies for the Japanese journal Gendai Shisô which helped introduce gay and lesbian studies to a Japanese readership.
Recent Publications:
"On Kitsch, Camp, and Mishima Yukio." (in Japanese) Kokubungaku: kaishaku to kanshō, Spring 2011.
Beautiful Fighting Girl. Co-translation with Dawn Lawson of Saitō Tamaki's Sentōbishōjo no seishinbunseki]. University of Minnesota Press, 2011.  Includes a sole-authored introductory essay.
"Geneaologies of Japanese Immaturity." (in Japanese) in Nihon-teki sōzōryoku no mirai, ed. Azuma Hiroki. NHK Books, 2010.
"Honoring Eve: Essays on the Work of Eve Kosofsky Sedgwick." A special issue of Criticism, co-edited with Erin Murphy (Spring 2010). Includes an introductory essay by the editors.
Perversion and Modern Japan: Psychoanalysis, Literature, Culture. Routledge, 2010. Co-edited with Nina Cornyetz.
A Riot of Goldfish.  English translation with introduction of two novellas by Okamoto Kanoko ("Kingyo ryōran" and "Shokuma"), Hesperus Press, 2010.
J. Keith Vincent, CAS associate professor of Japanese and comparative literature
Striving to start a dialogue between Japanese queer scholarship and US queer theory, Vincent is not only an expert on East Asian languages and cultures, but also a leading scholar on Japanese culture's shifting views of sexuality throughout history. His English translations of major Japanese works have won him two top awards, including a 2011 Japan/United States Friendship Commission Prize for the Translation of Japanese Literature.
Tenure Goes to 12 Charles River Campus Faculty Recognized for outstanding research, teaching, BU Today
Professor Vincent will teach
* WS 102 Gender and Sexuality: An Interdisciplinary Introduction     Spring 2014