MicroFridge®
Keep your study snacks within arm's reach.
When you order your MicroFridge®—that's a microwave atop a refrigerator with freezer—through us, we deliver it for free right to your room when the semester starts and pick it up at the academic year's end. If you order by August 16, you can even have your MicroFridge® ready and waiting in your room when you get to campus for the fall semester. Changing rooms? We'll move it for you—on the house.
If you live in one of BU's dormitory-style residences, MicroFridge® is the only microwave allowed in your dwelling.
Features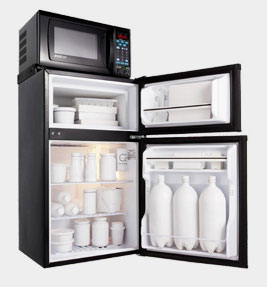 Fridge with Freezer
Refrigerator and freezer with separate doors for energy-efficiency and convenience
Storage space inside both doors
Adjustable temperature controls
Easy-clean finish
Dimensions
Total: 18.5" W x 15.5" D x 32.5" H
Fridge: 18.5" W x 15.5" D x 22.5" H
Freezer: 18.5" W x 13.5" D x 10" H
Microwave
600-watt cooking power; 300-watt defrost
Timer dial allows cook time of up to 30 minutes
Viewing window in door and interior light for convenient monitoring
Dimensions
13" W x 13.5" D x 10" H
Rental Rates
Annual (fall and spring semesters): $225—plus $14.06 (6.25% Massachusetts sales tax)
Summer I: $75—plus $4.69 (6.25% Massachusetts sales tax)
Summer II: $75—plus $4.69 (6.25% Massachusetts sales tax)
Combined Summer I & II: $125.00—plus $7.81 (6.25% Massachusetts sales tax)
Order online through the StudentLink (just select MicroFridge® from the list in the Food & Shelter tab). For those who prefer to mail an order, our printable rental application and agreement is available for download.
Only one student's name can appear on the rental agreement. For details on delivery, refunds, cancellation, lease transfer, damages, repairs, and returns, please view the rental agreement.
Contact our office with any questions during regular business hours at 617-353-2375.
Service & Repair
All our appliances are reliable and well maintained, but should anything happen as the result of defective parts or normal wear and tear, we offer repair services to our renters.