Beckman Foundation Scholar Awards
Boston University and UROP are proud that it received a three-year Arnold & Mabel Beckman Foundation Scholars Program Award in 2011, which marked the fifth time that BU has received a Beckman Award. The current Beckman award has allowed six BU students to receive generous two-year Scholar awards to conduct independent research. Boston University was recently selected as a Finalist for the 2014 Beckman Scholars competition, and we hope to know if we have received a new award in early 2014. Two Beckman Scholars were selected in April 2013 and, if we our application is funded again, we will be selecting two new scholars in April 2014.
Each student named as a Beckman Scholar performs research part-time during two academic years and full-time over two summers. The Beckman Scholar Award consists of a stipend ($4000 per academic year, $6000 per summer), a travel and supplies allowance ($1600 per academic year, $850 per summer). The award also includes a trip to the Beckman Scholars Annual Research Symposium, held each summer in Irvine, CA, where each student will present his or her research to a group of Beckman scholars, mentors, scientists, and administrators. Competition for this award is open to Boston University sophomores who are US Citizens or Permanent Residents and who are majoring in Biology, BMB, Chemistry or Biomedical Engineering. For more information on the award and the application process, please click here.
Beckman Scholars
The 2013 Beckman Scholars are pictured below.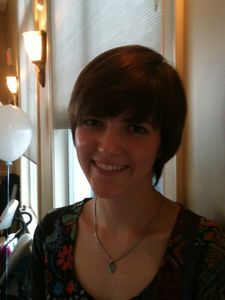 Audrey Lambert, a Biology major, will be performing research with Dr Thomas Gilmore in the Biology Department. Her project will involve developing methods for modiying the genetic make-up of simple marine organisms. A key scientific advance for understanding basic biological processes has been the ability to genetically alter model organisms, such as nematodes, fruit flies, and mice. The phylum Cnidaria includes approximately 10,000, mostly marine, basal organisms, including several that are of commercial importance or are under environmental insult, esp. corals. An emerging model organism for animals in this phylum (corals, anemones, jellyfish, hydra) is the starlet sea anemone Nematostella vectensis. This anemone is convenient because it is small, can be collected from natural estuarine sites, is easily maintained in the lab, has extensive regenerative properties, and has a complete genome sequence and extensive RNA expression data. Nevertheless, molecular genetic approaches to modify gene function are limited in this animal. Thus, a major goal of this project is to develop additional and improved methods for altering and introducing gene function in Nematostella. These techniques will then be used to study signaling pathways (e.g., the NF-κB pathway) and biological functions, and perhaps to develop biosensor or decorative animals. For example, one long-term goal may include developing transgenic N. vectensis as biological sensors for environmental factors such as pH, temperature, and salinity.
Sarah Nocco is a Biology major who will be peforming research with Dr. Francisco Naya in the Biology Department. The Naya lab focuses on understanding molecular pathways that control muscle cell development and regeneration. There are currently no effective treatments for the various forms of muscular dystrophy.  The main form of 'treatment' consists mainly of aiding patients in controlling the symptoms that accompany their disease. Skeletal muscle is one of the few mammalian tissues that has the capacity to regenerate, with new cells arising from muscle stem cells residing in proximity to mature muscle fibers. While many molecular pathways have been identified that regulate muscle regeneration, our understanding of this process is far from complete. Recently, it has been found that transcription factor MEF2A is a key player in the regulation of skeletal muscle regeneration after injury. Given the importance of MEF2A in muscle regeneration. The goal of Sarah's project is to identify transcriptional enhancers that control the expression of Mef2a by performing deletion mutagenesis of the proximal promoter and analyzing the activity of these sequences using reporter gene assays both in vitro in an established muscle cell line and in vivo using a muscle regeneration model in mice. Overall, these studies will enable us to develop a more complete understanding of the pathways employed in skeletal muscle regeneration, which may have therapeutic relevance for human muscle degenerative diseases.
Information on past Beckman Scholars is available here.