2011 Clare Boothe Luce Awardees
The Undergraduate Research Opportunities Program is pleased to announce the Clare Boothe Luce Scholar Awards, which support undergraduate summer research projects undertaken by female U. S. citizens.
The Clare Boothe Luce Award was established by Clare Booth Luce, a playwright, journalist, U.S. Ambassador to Italy, and the first woman elected to Congress from Connecticut, "to encourage women to enter, study, graduate, and teach" in the fields of science, mathematics and engineering. More information can be found on the Luce Foundation website.
Recipients of the Clare Boothe Luce Scholar Awards will be selected from the applicants for summer UROP funding. For information on completing a UROP application, please click here.
Summer 2011
Seven Clare Boothe Luce Scholars were selected during the summer of 2011:
Catherine Chan-Tse, an Electrical Engineering major, is working with Dr. Sean Andersson to develop improved methods for the tracking of single cell molecules inside living cells.
Megan Garland, a Chemistry major with a specialization in Biochemistry, is conducting research with Dr. Karen Allen focusing on the purification and structural determination of proteins via X-ray crystallography.  She studies the dullard/lipin1 and nem1p/Smp2 complexes, regulators in the biological cascade of membrane and cholesterol biogenesis through the conversion of phosphatidic acids to diacylglycerides within humans and yeast, respectively.
Maureen Leninger, a Biochemistry and Molecular Biology major, is working with Dr. Pinghua Liu in chemical studies of N-demethylation, which is a process that regulates enzyme activity.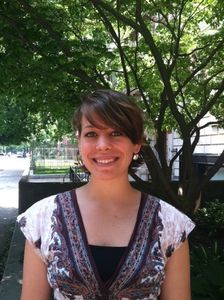 Elissa Mueller, a Mechanical Engineering major, is working with Dr. Theodore Fritz on the Boston University Student-satellite for applications and training. This project seeks to develop improved camera imaging techniques for satellite-based assessment of weather patterns.
Lani Rush, a Chemistry major, is working with Dr. John Straub in using chemical approaches to understand the role of water micelle interfaces in protein aggregation. Their research may have applications to understanding how proteins aggregate in certain neurological diseases.
Jennifer Ryan, a Biomedical Engineering major working with Dr. Serge Roy, is using electrical sensing methods to assess human motor movements. Their research is likely to have applications to the development of diagnostic and therapeutic approaches for persons with neurological disorders.
Brittany Yelenik, a Mathematics major, is working with Dr. Eric Kolaczyk on the statistical inference and analysis of networks inherent in different internet applications.