Annual Symposium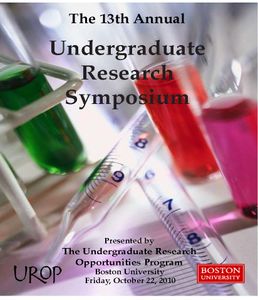 The 13th Annual Undergraduate Research Symposium was held on Friday, October 22, 2010, to coincide with events of Parents Weekend. It was our largest event ever, with approximately 160 students presenting posters and  research talks. We estimate that it was attended by 400 people, including faculty, undergraduate and graduate students, parents and relatives. Some photos from the event are shown below. Based on the comments of a panel of  judges, Dr. Tom Gilmore, the UROP Director, presented four students with awards for outstanding presentations – a difficult task, considering the caliber of work displayed. Student awards were as follows:
1st Place Speaker – Christopher Libby (CAS '11)
Mentor: Dr. Michael Hasselmo, CAS Psychology
Grid Cell Firing in the Medial Entorhinal Cortex is Dependent on Input from the Medial Septum
1st Place Poster –  Samir Ahmed (ENG '13)
Mentor: Dr. Anna Swan, ENG Electrical Engineering
Fabrication of Durable Graphene Based Passive Pressure Sensors

2nd Place Poster – Christopher Kwan (CAS '11)
Mentor: Dr. Margrit Betke, CAS Computer Science
Camera Canvas: Image Editing Software for People with Disabilities
3rd Place Poster – Jiazou Feng (CAS '11)
Mentor: Dr. Mark Grinstaff, CAS Chemistry & ENG Biomedical Engineering
Synthesis and Characterization of Photo-sensitive Nanoparticles for Application towards siRNA Delivery
Thanks to everyone – students, faculty, and staff – who made this event such a great success!