Humanities Scholars Award
The UROP Humanities Scholars Award provides a stipend and supplies/travel support to 10 students each year and research funding to their faculty mentors. The award is available to rising sophomores and juniors. During the academic year, the award provides a $1,100 student stipend for 10 hours of research per week and up to $250 for supplies/travel to the student. The award also provides $250 to the awarded student's faculty mentor for research/travel.
The award is available to students conducting research with faculty mentors in the following departments:
African American Studies
American & New England Studies
Cinema & Media Studies
Classical Studies
Core Curriculum
English
History
History of Art & Architecture
Humanities (CGS)
Linguistics
Philosophy
Religion
Romance Studies
Women's, Gender, & Sexuality Studies
World Languages & Literature
Application Information
All applicants are automatically considered for UROP funding. Complete applications will include a standard UROP Application Form (please select the option to indicate that you are applying for the Humanities Scholars Award) and a faculty recommendation letter. Click here for more information on completing an application for UROP funding.
Fall 2017 Awardees:
Shivani Singh, an English major, is working with Dr. Sheila Dordner (CGS English) on a project entitled "Children's Literature in relation to 19th-century and early 20th-century Education Reform with Victorian Literature."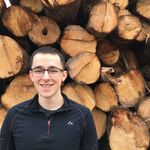 Sterling Gingerich, an English major, is working with Dr. Charles Rzpeka (CAS English) on a project entitled "Hannah Arendt and Charles Olson: the Remnants of the Modern Polish."
Maria Ren, a Mathematics major, is working with Dr. Daryl Ireland (School of Theology – History & Hermeneutics) on a project entitled "Oppositional Art: Chinese Christian Posters."
Previous Awardees
Vanika Achreja, Brett Driben, Bridget Girnus, Gregory Kerr, Morgan Lehofer, Alicia Rosenthal, and Kelly Tapager were awarded the Humanities Scholars Awards in Summer 2017.
Brett Driben, Cheryl Gartsbeyn, Madeline Howard, Gregory Kerr, Melinda Reyes, and Shivani Singh were awarded Humanities Scholars Awards in Spring 2017.
Cheryl Gartsbeyn, Maya Kammourieh, and Adrienne Rube were awarded Humanities Scholars Awards in Fall 2016.