17th Annual Undergraduate Research Symposium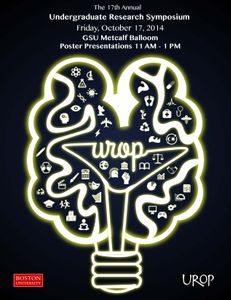 The 17th Annual Undergraduate Research Symposium was held on Friday, October 17, 2014.  Over 250 students from all disciplines will be presenting posters highlighting their summer research projects. This event is well-attended by faculty, staff, undergraduate and graduate students, parents, friends and relatives. The Symposium provides the opportunity to see the various types of research projects being conducted on campus.  The event can be a great way for students to explore potential research projects and seek out potential research mentors.  Pictures from this year's and previous Symposiums can be found on our Facebook page.
Outstanding Poster Prizes
Based on popular vote, UROP Director Paul Lipton presented three students with awards for outstanding posters – a difficult task, considering the high caliber of work displayed.
James Christianson – ENG Computer Engineering
Mentor: Prakash Ishwar, ENG – Electrical and Computer Engineering
Close-Range User Authentication form Hand Gestures Using Motion Sensing Cameras
Jonathan Duskin – CAS Neuroscience
Mentor: Ofer Pasternak, Psychiatry/Radiology, Brigham & Women's, Harvard Medical
Development and Implementation of a Pipeline for Determining Patterns of Volumetric and Microstructural Changes in Multiple Sclerosis
Carson Garvin – SAR Human Physiology
Mentor: Cara Lewis, SAR – Physical Therapy
The Effects of Service Dogs in Balance and Gait when Used as Assistive Devices for the Mobility Impaired
Symposium Booklet Cover Award
The Symposium Abstract Booklet Cover Design Award was presented to Claire Brown, a summer UROP award winner, who conducted research with Assistant Professor Jennifer Green, SED Special Education.
Outstanding Mentor Awards
Beginning this year, we invited students to nominate their mentor for an Outstanding Mentor Award. We selected three highly commended mentors to receive this inaugural award.
Jennifer Green – School of Education Assistant Professor of Special Education
Nominated by: Claire Brown, CAS – Classical Civilization
Cara Lewis -  Sargent College Assistant Professor of Physical Therapy & Athletic Training
Nominated by: Carson Garvin, SAR – Human Physiology
Raffi Miller - School of Dental Medicine Clinical Assistant Professor of General Dentistry
Nominated by: Marisa Borchardt, SAR – Human Physiology