Uniting the Arts, Sciences, and Professional Schools: Cluster Courses
A familiar ingredient in any recipe for institutional change is interdisciplinarity, a concept that has now become mainstream enough to make any extensive justification for its presence in higher education unnecessary. Interdisciplinarity extends the boundaries of disciplines into emerging fields and injects existing disciplines with new ideas and contemporary relevance. It speaks to the desire—and necessity—for students to possess a larger toolbox of perspectives, and it reinforces the collaborative methods that are frequently cited as best practices in how students learn. Yet it remains challenging to find curricular and administrative models to allow it to flourish.
As a connected and coordinated General Education route, we propose that students follow the thematic groupings of newly developed course "clusters" linking different fields, disciplines, and schools, that will emphasize shared pedagogical values, distinct skills and knowledge, and a broader relevance. The approach is already flourishing at many institutions. UNC-Chapel Hill's cluster programs, introduced into its 2006 curriculum, let students satisfy some of their General Education requirements through an interdisciplinary approach, reinforcing that it is not just what a student learns but how. Taking this approach, which is already being put into practice by the new University Honors College program, further into BU's curriculum and living communities would greatly augment the University's ability to recruit and retain our best students.
According to a recent Chronicle of Higher Education report, and echoed in two BU documents—the 2008 Report of the Task Force on the First-Year Experience in the College of Arts & Sciences and the One BU Task Force Student Interim Report (2009)—students desire coursework that provides greater creativity and flexibility, more interdisciplinary and collaborative work, exposure to research and real-time experiences, routes that permit more individualized and customized streams of study, and meaningful relationships with peers and faculty.(26) Cluster courses and cluster living communities meet all these concerns, and they can encourage our students to pursue their curiosity and interest in courses outside their majors.
Most importantly, clusters can allow students to either choose pre-established clusters, or customize part of their General Education requirements by designing their own groupings, leading to more agency on the students' part, ensuring that they "become the stewards of their own educational pathway within a liberal arts institution."(27) Simply designing a cluster initiates the students into a new approach to their education, since they must not only make thematic connections but also theoretical links between approaches and disciplines, even when those may be, as UNC's cluster site notes, the "very real disconnections that make such conversations both challenging and essential."
A pool of some 5,000 undergraduate courses at BU provides a rich source for developing these clusters, and they can easily be built around a preexisting required course. For example, all BU freshmen must fulfill a writing requirement, and many do so through the thematic expository writing courses in CAS's Writing Program.(28) These 100- and 150-level courses teach critical thinking and writing skills, research and analytic methodologies, and they are inclusive in the coverage of the literature, providing the valuable "writing-across-the-curriculum" service crucial for all areas of major concentration. Because the Writing Program's courses concentrate on specific subject matter, they offer enormous potential to establish associations with other classes throughout the University, many of which satisfy General Education requirements. Students could complete those basic requirements while simultaneously pursuing topics they would enjoy studying but without detracting from the demands of their major. Generating course clusters through freshman writing courses would initiate students from the beginning into the One BU culture of inquiry that teaches new and more powerful ways to think, to question, and to learn.
In short, cluster programs highlight a unique characteristic of Boston University and place into action one of the central points of the BU Strategic Plan that is being endorsed in the current report: the combination of a professional and a liberal arts education. Ideally, clusters will blend the interdisciplinary with service and the academic with social engagement, in a rigorous and stimulating format. As the chart below illustrates, clusters produce a range of outcomes: they lower barriers between faculty (and Faculties), encourage creative and collaborative projects, motivate informed and targeted advising, enhance mentoring and advising on all levels, foster global awareness, and cultivate ethical consciousness. Done well, and cooperatively, cluster programs will produce a lifelong learning experience.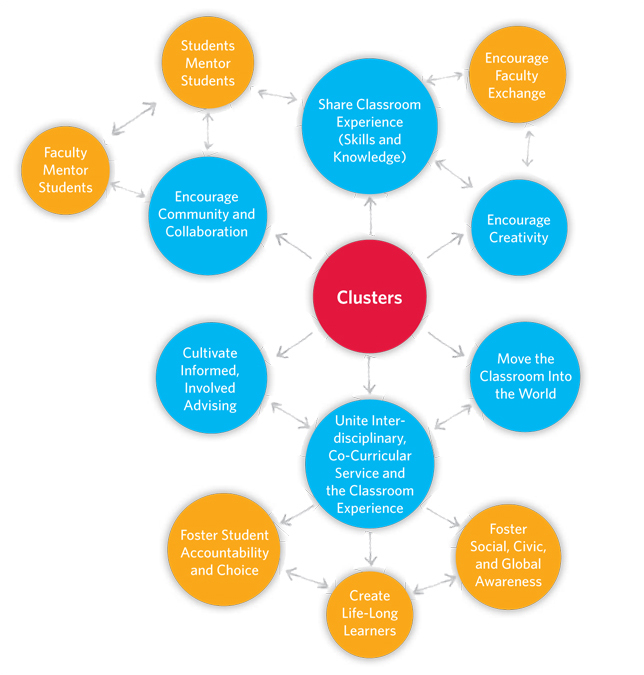 Clusters' Contribution to Faculty Development
While clusters offer opportunities for a team-taught approach, even without that merger of time and energy they suggest other ways to remove real and perceived barriers between faculty, divisions and departments, schools, and programs. CGS's recent decision to include the freshman elective in its fall semester brings this fluidity into its interdisciplinary team-structured curriculum. CAS's timeline for its First-Year Experience includes soliciting proposals for freshmen seminars and learning communities that link courses and that tie courses to residential programs. Deans and chairs throughout the University must encourage—even require—that faculty adapt existing courses to include flexible assignments that explore meaningful applicability to real-life situations and thus help dissolve the barriers between the classroom and the community outside the classroom, between coursework and intern and volunteer experience. As an additional and significant consequence, clusters would promote an invigorated academic advising, since advisors would know about and promote more across-the-discipline approaches to fulfill requirements within major areas of study.
Previous: Locating Courses | Next: Clusters' Contribution to Faculty Development
---
26. Martin Van Der Werf & Grant Sabatier, "The College of 2020: Students," Chronicle Research Services (June 2009).
27. Report of the Task Force on the First-Year Experience in the College of Arts & Sciences, 23 April 2008, 6.
28. The College of General Studies students complete this requirement in their two-semester Rhetoric class, part of their freshman course of study and part of the College's own "cluster" pedagogy.