Defining General Education at BU
Defining the principles of General Education is the most complex and far-reaching of all of the issues we face, and it accordingly occupies the central position in this report. Our task was to construct a model in which the concept of One BU was embedded deeply and comprehensively as a foundation of General Education—a central point of reference—allowing the curricular opportunities presented by the colleges to be accessed by all. At the institutional level, these might include changes introduced by new strategic directions and/or academic priorities, administrative and departmental reorganizations, the aligning of programs with new accreditation standards or the opening up of new programs, such as the University Honors College, which places primacy on interdisciplinary thinking and undergraduate research/creation, the approval of new minors, and, to be sure, the considerable impact that General Education has on recruitment, enrollment, and retention, allowing us to remain competitive for the best students. At the student level, it is crucial that General Education continues to expose all students to both the traditional and the novel aspects of the liberal arts. General Education must recognize the enduring values of a liberal education, while also adapting to generational change and new capacities and new epistemologies in learning, embracing technological innovation, and responding to calls for timeliness and relevance to the contemporary world. (6)
Accordingly, the recommendations that follow extend from our definition of General Education as a program of learning that all undergraduate students in the University should experience to build a desired set of skills and competencies. General Education represents a breadth of knowledge that all students should achieve, in contrast to the particular depth of knowledge and specific skills acquired through the major. Moreover, as what constitutes General Education continues to be informed by new scholarship, new approaches, and new pedagogies, it should be seen not as an unchanging set of values, but as a dynamic curriculum that is continuously evolving.
At the most fundamental level, a Boston University General Education should produce graduates who are:
Skilled at solving open-ended problems in both quantitative and qualitative environments
Globally and culturally aware
Ethically and socially responsible
To achieve those capabilities, we agree that undergraduates must demonstrate the ability to:
think quantitatively and critically
express themselves through communicating effectively, critically, and with discernment, orally and in writing
engage in an active ongoing learning process
produce and create with imaginative spirit
know a broad body of work in science, literature, and art
command and employ technology with competence, creativity, and ease
In order to bring this kind of cohesion to BU, the Committee confronted the following questions, ones specifically tailored to the BU landscape:
What constitutes the foundation of a Boston University undergraduate education?
What are the common curricular and co-curricular principles that would ideally define a BU undergraduate?
How do we ensure competencies and concrete outcomes not only in science and math, but also in the arts and humanities?
How can we ensure that both depth and breadth are achieved? Specifically, what is an academic design that could ensure that students graduate with both primary and secondary fields of interest?
How can we build models to allow for increased collaboration between colleges and seize on points of convergence that can lead to interdisciplinary inquiry?
How do we make the administrative walls of the colleges—particularly those of the professional schools—more porous, so that BU undergraduates have facile access to the curricular riches at BU? How can the doors open more widely to allow flexibility and collaboration across colleges and departments?
How do we define what a "global perspective" means, and, once we do, how do we include it as part of a BU undergraduate itinerary?
How can we embrace the best of what technology can offer us, and ensure that BU students are not only technologically ahead of the curve, but can use technology effectively and creatively?
How can we lay the groundwork for a program of ongoing assessment (ability to track and quantify students' progress over four years) and evaluation (ensuring that programs are relevant and meet their projected outcomes)?
We agreed that the University and each school within the University must answer these questions and that the answers, fundamentally, must be addressed in two ways: through enhancement of the current strengths of Boston University and through integration of activities across schools and programs within the University.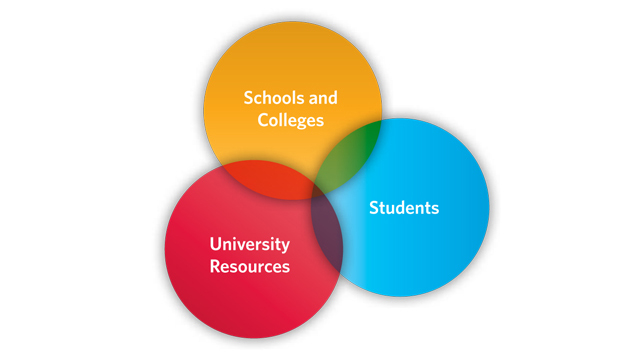 Previous: Introduction: Designing a "One BU" Landscape | Next: Enhancement: The BU Advantage
---
6. In stressing the need for "relevancy" we are not implying that undergraduate education should be market-driven or uncritically follow contemporary educational trends. Rather, we define "relevancy" as including the following: greater exposure to research and innovation; the ability to solve problems from different perspectives and to work collaboratively; the ability to access and analyze information produced from digital and printed sources, and to leverage the strength of an education in economically uncertain times; and the ability to forge a closer relationship between career services, advising, and the undergraduate student.