On a cold winter night last week, students from two BU schools went head-to-head in a West Campus meeting room. The object? Which two-person team, one from the College of Fine Arts, one from the College of Engineering, could build the better gingerbread house? BU Today had reached out to the two schools asking for students willing to take part in a friendly but spirited competition. Would ENG students, with their penchant for structural soundness, trump the artistry of their CFA counterparts—or vice versa? The rules were simple. As well as a communal pool of icing, frosting, and sprinkles, each team was supplied with two gingerbread house kits to combine and manipulate as they saw fit. In addition, each team was allowed to bring in outside accoutrements to adorn their houses—provided they were edible.
Acting majors Ronan Quiniou (CFA'21, CAS'21) and Zachary Kelley (CFA'21) laid out an eclectic mix of pretzel sticks, a small bag of Golden Grahams cereal, and tea bags. Their ENG counterparts, Camryn Williams (ENG'21) and Samuel Quick (ENG'20), had design and structure in mind. They brought in Exacto knives, a hammer, and safety glasses. (You can't be too careful when it comes to building a gingerbread house.)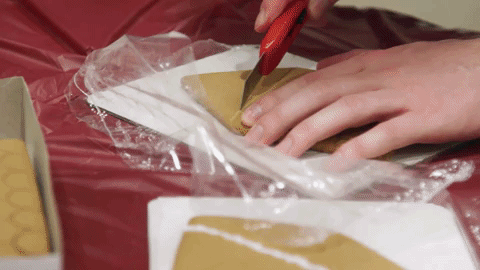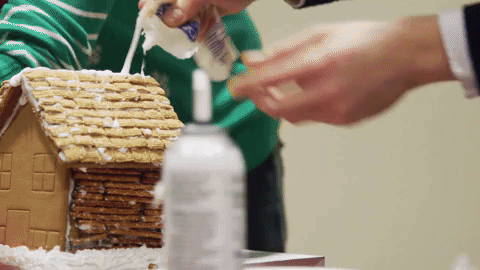 The teams' game plans, not surprisingly, were markedly different. Quiniou and Kelley envisioned a Canadian chalet, a concept they hoped to pull off successfully with their eclectic mix of outside ingredients. "We like to reuse materials in a different way," Kelley said. "We're using cereal as roof shingles."
"And we're using pretzels to make it look like a log cabin," Quiniou added.
For their part, Williams and Quick set out to go tall. Using both kits, they cut out extra pieces to support the first floor before affixing a second level to their self-described townhouse.
"Our goal is to get the structure first," Williams said, "and then worry about decorations."
"I think I'm most concerned about decorating," Quick said. The structural work "has been a lot of fun; but when it comes to gingerbread house-making, that's not the main component of it."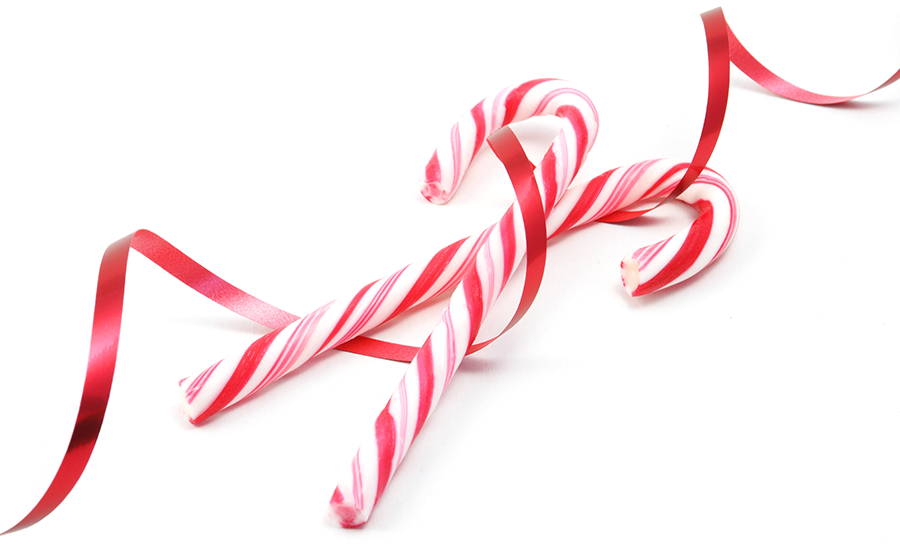 When the (cookie) dust finally settled, two quite different concepts had emerged. The ENG students' two-story townhouse sported a roof festooned with gumballs and candy dots, holiday lights along the sides, and a lawn covered in green sprinkles. As an added touch, Williams and Quick had pieced together a dormer on one side of the roof, complete with a gingerbread man hanging daringly out the window.
The CFA creation, clad in pretzels, resembled a rustic snow-covered log cabin, as promised, with a roof made of cereal shingles and covered with quite a generous amount of frosting to convey a recent snowfall. Tea leaves and crumbled cereal gave the impression of dirt peeking out from under the snow.
Which of these two marvelous gingerbread houses is your favorite? Let us know in the Comment section below. Our thanks to all four students for gamely taking part in our competition.
Additional production by Clarisha Bailey (COM'19) and Aaron Hwang (ENG'21).
Alan Wong can be reached at alanwong@bu.edu.
28 Comments