Words, Sounds, and Music from the Gulf
CAS Prof Pinsky's new poetry collection out today
The most recent book of poetry by three-time U.S. poet laureate Robert Pinsky, a College of Arts and Sciences professor of English, takes readers out of the author's native New Jersey, terrain he visited in 2000's Jersey Rain, his last poetry collection. Gulf Music ventures into the American South, the Middle East, Guantánamo Bay, and other locales that have demanded the public's attention in the seven years since Jersey Rain was published.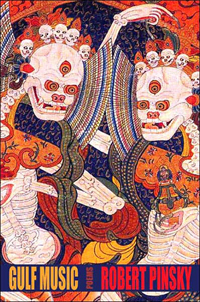 Gulf Music, published today by Farrar Strauss and Giroux, is Pinsky's seventh volume of poetry; early praise from Booklist calls the work "ravishing" and Pinsky "serious and seriously funny," while Publisher's Weekly describes it as "a carefully tuned yet impassioned vision of a past-haunted present where lessons of history remain unlearned and individuals struggle for comprehension amid atrocities."
In addition to Jersey Rain, Pinsky's previous works of poetry are The Figured Wheel: New and Collected Poems, 1966–1996, winner of the 1997 Lenore Marshall Poetry Prize and a Pulitzer Prize nominee; The Want Bone; History of My Heart; An Explanation of America; and Sadness and Happiness. He has also published four books of criticism, The Sounds of Poetry, a finalist for the National Book Critics Circle Award; Poetry and the World; The Situation of Poetry; and Democracy, Culture, and the Voice of Poetry; two books of translation, The Inferno of Dante, which received the Los Angeles Times Book Prize and the Harold Morton Landon Translation Award; and The Separate Notebooks by Czeslaw Milosz (with Renata Gorczynski and Robert Hass); a prose book, The Life of David; and a computerized novel, Mindwheel.
In the video above, Pinsky reads "Poem of Disconnected Parts," which opens Gulf Music, at the Robert Lowell Memorial Lecture in April 2007. The late writer and feminist Grace Paley was the featured speaker, introduced by Pinsky, and Samantha Mineo Myers (GRS'02), a CAS Writing Program lecturer, read four short poems.
The Robert Lowell Memorial Lecture series brings distinguished poets to Boston University to read alongside a member of the Creative Writing Program faculty and a recent graduate of the program.
 Jessica Ullian can be reached at jullian@bu.edu.