Sports Shrink to Sox: Read This and Win
Terrier sports doc says victory is all in the mind

Going into the final ALCS games between the Red Sox and the Cleveland Indians, BU Today talked with sports psychologist Leonard Zaichkowsky.
The Red Sox may be down three games to one in the American League Championship Series heading into tonight's game against the Cleveland Indians, but sports psychologist Leonard Zaichkowsky says there's no reason for them to panic. "It's time to refocus and rely on their ace starter Josh Beckett to shut down Cleveland," he says. "Then they have two games at home and should be able to pull them off."
Fans can hope Zaichkowsky knows what he's talking about. A professor of counseling psychology at the School of Education and the School of Medicine, he's been the sports psychologist for Terrier teams for more than 20 years and has advised squads ranging from the Boston Celtics and the Calgary Flames to Real Madrid and the Spanish national soccer team.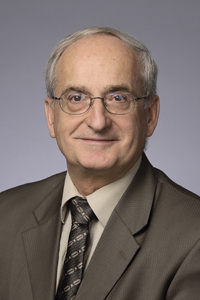 Leonard Zaichkowsky
The key, Zaichkowsky says, is the ability to refocus after a tough loss, to avoid dwelling on the past, and to draw from earlier successes.
But with the Sox in a must-win situation, what is the team's sports psychologist — and the Red Sox do have one — telling them today in Cleveland? "When I am asked to come in, when teams are behind in a series, I give them a very brief reminder of the things they need to focus on," Zaichkowsky says. "I tell them not to focus on the past. There's almost nothing to be learned from those previous games. You need to focus on the here and now, pitch by pitch, inning by inning. At this point, it's reminding players of the things they do well, and above all, to be positive."
Sox fans, who turn negative faster than the weather changes, could certainly benefit from his counsel. He says he was listening to talk radio on the drive to work Wednesday morning, "and you'd think the sky had caved in. I don't know where the hell that comes from, but I hope players aren't listening to that stuff. They have to believe in their own abilities."
Some players almost always think positively and have an uncanny ability to perform under pressure. "A small number just thrive on it," Zaichkowsky says, citing Sox designated hitter David Ortiz. "I think he views pressure as an opportunity."
Curt Schilling warms up in the bullpen
before a game at Fenway.
Zaichkowsky also points to BU hockey standout Chris Drury (CAS'98), who skates for the New York Rangers. "The bigger the game, the better he performs," he says. "He told me on many occasions, 'I don't know what people are talking about being nervous about a big game.' He sees it as a challenge. But he's a rare bird."
For most people in these situations, the harder they try, the worse they do. "They think, 'I've just got to get a hit,' and they tense up," Zaichkowsky says. "Muscles are microscopically tensed up, and that fluid swing isn't there anymore. It's a pop-up instead of a home run."
And that brings us to the real problem the Red Sox have had in the last three games against the Indians: hitting, or rather, the lack of it. Take Dustin Pedroia, who batted over .300 all year, but has been struggling in the ALCS. "One could maybe make the case that the pressure is getting him to tense up just ever so slightly," Zaichkowsky says. "It doesn't take much to throw you off.
"But the reality is that in the thick of the pennant race — and the pressure was pretty damn big there — he was coming through," he adds. "Cleveland's got really good pitching, and you have to give credit to that. Sometimes you say the hitters aren't coming through — maybe they're in a bit of a slump — but what causes that is good pitching on the other side."
Maybe being an optimist is an occupational hazard of his job, but Zaichkowsky gives the Red Sox more than a sporting chance to win the ALCS. "It's an old cliché, but it's one pitch at a time," he says. "They can get back in this, because they have a lot of good talent out there."
Can the Red Sox save themselves? Vote here.
Taylor McNeil can be reached at tmcneil@bu.edu.