Looting History
BU archaeologists call for a stop to illegal antiquities trafficking
The Roman art room in Boston's Museum of Fine Arts is dominated by a large marble goddess in flowing robes, illuminated by a spotlight. The statue, Eirene, dating to around the early first century A.D., has been on loan from the government of Italy since November — a friendly gesture considering that the MFA had only recently handed over 13 Greek and Roman antiquities the museum admits had been looted from Italy. The same scenario had played out earlier that year at the Metropolitan Museum of Art in New York: a half dozen antiquities, the most important an exquisite Euphronios vase from about 515 B.C., were returned to Italy, where they had been looted years before. The Met's director, Philippe de Montebello, said at the time that the exchange "redresses past improprieties in the acquisitions process."
Eirene, loaned by the Italian government to Boston's MFA.
Photo courtesy of the MFA
Ricardo Elia, a College of Arts and Sciences professor of archaeology and a longtime critic of museums and their acquisition of antiquities with an unclear origin, puts it a different way. "For 20 to 30 years, the Met said, 'We're giving up the Euphronios vase over our dead bodies.' But the minute Italy had the evidence and there was going to be a big stink and a public relations disaster, they rushed off to Rome. They made a deal, everybody made nice, collaboration, cooperation — then back to business."
It's the back-to-business part that worries Elia. Museums have been buying or accepting donations of antiquities of uncertain origin for decades, he says, helping, along with other collectors, to drive a market that is leading to plundering of once-rich archaeological sites in every corner of the globe. As looters bulldoze their way to objects that fetch high prices in the international antiquities market, he and other archaeologists say, they destroy the past.
Wherever ancient civilizations created objects that are now desired — Guatemala, Peru, Turkey, Iraq, Italy, Greece, Cambodia, China, the list goes on — looters are active. The Lydian civilization that flourished around the sixth century B.C. in what is now eastern Turkey is one example. "There are no known Lydian tombs that have been excavated by an archaeologist," says Christina Luke, a research associate in the CAS archaeology department. "They are all gone, all looted." Had they not been plundered, the tombs could have told rich tales of the lives of Lydian rulers and given many clues about the lost civilization. Instead, all that's left are objects now in private collections and art museums, stripped of their context and much of their meaning.
Or consider the Euphronios vase at the Met. "You get a beautiful Greek vase, but you don't know where it came from — the site, the tomb, what it was found with — all of that contextual information," Elia says. "That's how we learn about the past. It's that loss of knowledge, information you can get out of studying a tomb, and you'll never get that back."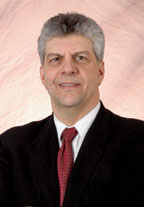 Ricardo Elia, CAS professor of archaeology.
Photo by Michael Hamilton
One of Elia's research specialties is ancient south Italian Greek vases that have been collected during the past two centuries. And one thing he has learned is that the most serious looting has occurred since the 1960s and 1970s. "Of 15,000 south Italian pots of this type that are documented in the world, basically 95 percent have no provenance, no traceable past," he says. "So the archaeological loss is 95 percent — that's huge." And that's not taking into consideration that for every marketable vase that plunderers find, they have to root through and mostly destroy about 10 tombs, greatly magnifying the archaeological loss.
"These places are hemorrhaging antiquities," Elia says. "When you look at the catalogs of just the auction houses and the big dealers, you see thousands of museum-quality antiquities never before described, never before known to the public, coming out of countries that have strict legislation on the books against export of antiquities, in some cases for hundreds of years. Where is it all coming from?" The answer is clear: plunder.
Collectors apparently make up most of the primary market for antiquities. According to a member survey released in early 2006 by the Association of Art Museum Directors (AAMD), American museum purchases account for less than 10 percent of the global market for antiquities. The 53 museums collectively spent on average $7 million a year on purchases, while the global market for antiquities is estimated at more than $100 million. "The results of this survey clearly show that the forces driving the antiquities trade lie outside the American art museum community," says Mary Sue Sweeney Price, president of the AAMD and director of the Newark Museum. Figures for donations of antiquities to museums were not included in the survey totals.
Museums are concerned about the illicit trade in antiquities. "It is important to stress that the acquisition of unprovenanced material is the exception," says Price. "It is not the rule in museum acquisitions of antiquities and archaeological material."
But, says Elia, it is practiced often enough that museums must accept a fair portion of the blame for the demand-driven looting. The market is an economic system, he argues. Ordinarily, antiquities dealers receive the looted goods and furnish them either directly to museums or to private collectors. The private collectors often give the antiquities to museums eventually, enjoying sizable tax deductions. "The museums rely on private collectors," he says. "Because most museums don't have enough money to buy what they want themselves, they get donations, loans, bequests."
In recent years, according to Elia, archaeologists have been trying to shame collectors and museums into doing the right thing. "Every museum curator says looting is bad, that they don't condone it," he says. "But they ignore the real cause: the system of supply and demand. They are pretending it doesn't exist. So we're trying to make that whole arrangement clear." Elia would like to see museums held to a higher standard than private collectors, in part because they have a public trust, but also for more practical reasons: if they stop accepting donations of antiquities with a questionable past, then perhaps collectors would be less likely to buy them.
Unfortunately, he says, some of the museums are still in denial. He points to a statement made last year by the Met's de Montebello. "These unprovenanced objects are orphans, as their parentage, through the absence of a known find spot, is lost," de Montebello said. "But would these same archaeologists abandon a shivering orphaned child on a cold rainy day in the street? We museums are the orphanage of these objects."
Elia sees it differently. "The real analogy is, first you kill the parents — the context — and then you steal the kid," he retorts. "But that's how they create this myth about saving the antiquities."
Documenting the illicit digging
In the antiquities trade, there's plenty of demand, so the supply keeps up with it. "It's a predominantly Western or elite market driving this," says Luke, coeditor of Archaeology, Cultural Heritage, and the Antiquities Trade, published last year. "Saudi Arabia and Dubai are up-and-coming markets, replacing Switzerland as the transit port." Another rising market is China, for both Chinese and international antiquities. According to Elia, even the death penalty, which can apply to Chinese convicted of looting, has not prevented it from becoming a serious problem. "It's the new money people in China who are buying stuff up," he says. That is part of another trend: the growing market for antiquities locally. "The wealthy, educated elites of the local countries are acquiring antiquities. And often they are selling them when they need money."
Wealthy collectors — international or local — drive the market, and word gets back to looters. Luke says she's heard of peasants living in remote areas of Peru who just happen to have Sotheby's catalogs in their mud-brick homes. "This is not some secretive network — there are pretty high-level things going on here," she says.
And while documenting the looting seems practically impossible, many archaeologists are trying. Luke is researching ongoing looting in eastern Turkey with her husband, Christopher Roosevelt, a CAS assistant professor of archaeology. Returning in 2006 to areas they had surveyed the previous year, they found more than 50 percent had been relooted. At some sites, she says, "we found shovels, picks, particle masks, candles, food remains — it's very recent."
Luke helped organize a conference in late February in Washington to try to assess what can be done to safeguard archaeological sites from looters. Among the participants were representatives from Turkey, Jordan, Syria, Lebanon, and Egypt. "How do they secure sites and how do they keep track of antiquities — these are among the things we hope to learn," she says.
The looting doesn't just destroy archaeological sites, but also can make life downright dangerous for archaeologists. Clemency Coggins, a CAS professor of art history and archaeology, who has long specialized in Maya antiquities, recalls the dangers faced by a Guatemalan friend, the head of a major institute of archaeology. With a team of 60 workers, she had started to excavate a major site that had been looted twice in previous decades. "They started to receive death threats, until finally these people came in and started tacking notes to the trees around the site, threatening the archaeologists personally," she says. In the end, the looters won. The team abandoned the site.

Compromise or confrontation
Until 1983, it was not illegal to import undocumented antiquities into this country. That year, the U.S. Congress passed the Convention on Cultural Property Implementation Act, implementing a 1970 UNESCO agreement prohibiting illicit import and export of antiquities. According to Elia, the act was watered down at the behest of American dealers, collectors, and museums, and the requirements as the act is now written make it difficult to prove that an object was looted.
Despite that handicap, he believes that things have been improving in recent years. "It is getting tighter," he acknowledges. "If you can show an object was looted in the foreign country, American law is recognizing that as a crime of theft, and that country has the right to get it back. There have been a couple of important cases like that. They've had the FBI come in and raid houses and give objects back to Italy."
While the recent cases brought by Italy are heartening to archaeologists, most believe that more action is necessary. What's needed, Elia says, is for museums to simply pick a date, after which they would require proof of where an antiquity came from — or refuse to buy it. "The Getty Museum was the only one that did that," he says, and that was after it returned looted antiquities. "The countries of origin can fight over all the older stuff — it was all looted — but to me it's more about stopping the new looting. That would diminish the future looting, because the looters won't have a market — that's the only way to do it."
On the other hand, Coggins, who has studied the antiquities trade for almost 40 years, says that so little progress has come in all that time that she feels "we have to find some common ground with collectors and museum curators. Many of these people operated entirely in good faith, and they have been turned into felons practically for doing what they really genuinely love to do."
No one imagines finding that middle ground will be easy. One suggestion calls for originating countries to loan their antiquities to museums, rather then sell them. But even as Coggins suggests it, she acknowledges that what museums and especially collectors really want is to own the art.
"The sadness for me is that I should have been saying this for so many years," she notes. "I continue to say it, but I'm trying to modulate it so that there could conceivably be a response. The two sides really hate each other so much. It's too bad. Because originally they did love archaeology, and part of that was expressed as collecting."
This article originally ran in the Spring 2007 issue of Bostonia.
Taylor McNeil can be reached at tmcneil@bu.edu.