In His Own Words
Click here to hear Martin Luther King, Jr. (GRS'55, Hon.'59) discuss his decision to leave his papers to Boston University.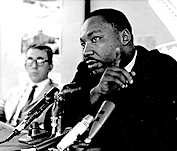 On September 11, 1964, Martin Luther King, Jr., gathered a group of reporters at Boston University and told them that "it was this university that meant so much to me in terms of the formulation of my thinking and the ideas that have guided my life."
For that reason, King continued, he was giving his personal papers to the University's library, partly out of his "great love and respect" for the institution and partly because he believed that BU was "desirous enough of having these papers" to give them special care and attention.
Click here to hear King's announcement of the decision.
King's papers are currently preserved at the Howard Gotlieb Archival Research Center. Items from the collection are on display Monday through Friday, 9 a.m. to 5 p.m., in the Martin Luther King, Jr., Room on the third floor of Mugar Memorial Library, 771 Commonwealth Ave.