Healthy Choices Made Easy
From weight control to disease prevention, the health benefits of proper nutrition are nearly impossible to overstate. At Boston University, several departments — including Student Health Services, the Fitness and Recreation Center, Dining Services, and the Athletics Department — have collaborated on a new program with Sargent College's Nutrition and Fitness Center that offers a variety of nutrition services to students.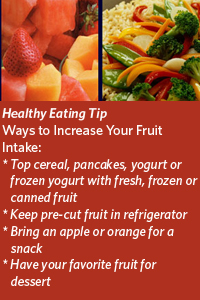 "We're living in a time when people are interested in nutrition and caring for themselves," says Stacey Zawacki, director of the Nutrition and Fitness Center (NFC), "but it's very challenging to do it on your own. We're surrounded by the temptation to overindulge." That's where the NFC can help, with programs such as individual nutrition counseling, group nutrition sessions, physical education–credit nutrition courses, and the Sargent Choice healthy dining program.
Nutrition counseling is tailored to a student's needs based on an initial assessment. Those with serious conditions, such as eating or gastrointestinal disorders, diabetes, or food allergies, will receive up to six counseling sessions, with a referral from Student Health Services. Students who have iron-deficiency anemia or want to learn how to plan vegetarian or vegan meals are eligible for up to three counseling sessions, with a referral. Students who simply want advice on healthy meal planning may schedule one counseling session, with no referral needed. Additional sessions are available on a fee-for-service basis for eligible students.
In addition to individual counseling, the NFC offers group sessions to students with common interests or nutritional concerns, such as athletes who must meet weight requirements or who need extra energy to compete. PE-credit courses on healthy dieting, nutrition for exercise and sports, and vegetarian nutrition are taught at various times each semester in a multipurpose FitRec classroom equipped with a full kitchen.
All of these programs are designed for BU students. "First we meet with students to figure out what their specific needs are," explains Zawacki. "Then we teach them how they can meet those needs here on campus." One nutritional option is the Sargent Choice program, which offers a variety of delicious, healthy foods in all residential dining halls and at retail dining locations throughout campus.
Students who are participating in off-campus programs are encouraged to use NFC's services so they can learn about what BU offers.
More offerings are in the works. A new resource room, furnished by Sargent's Class of 1956, will soon be open at FitRec, with dozens of books and periodicals on nutrition. Also, the Sargent Choice Web site will expand in January to include a tool students can use to calculate their individual nutritional requirements and to determine how to meet their needs by eating foods in the Sargent Choice program.
"We want to make it easy for students to be healthy," says Zawacki. "With this array of support and prevention services, we know we can make a difference."
Brian Sirman, a campus residence hall director, can be reached at bsirman@bu.edu.