Genocide on the Air
Five-minute film depicts a 1994 mass murder in Murambi
Schoolhouses atop grassy hills are typically considered idyllic sites of learning and laughter. But a school in Murambi, Rwanda, was the site of a mass murder on April 16, 1994, when thousands of ethnic Tutsis were killed by Hutu militia groups in a genocidal campaign.
Today, the school is a memorial to the genocide and is the subject of a new film by Sam Kauffmann, a College of Communication associate professor of film, who visited the site last summer. His five-minute film Massacre at Murambi airs tonight on the PBS television program P.O.V.

Kauffmann spent five weeks last July and August as a senior Fulbright specialist at the National University of Rwanda, in Butare, teaching video production. With a busy teaching schedule, he had little time for much else.
But one weekend he traveled to the Murambi genocide memorial, near Butare, where he learned about the massacre of thousands of Tutsis, told to seek refuge at the school, but really sent there to be killed. "That's when I got the idea of shooting that footage and making the film," Kauffmann says.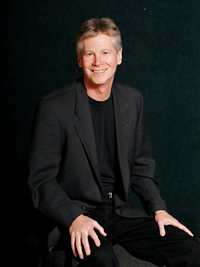 A short film by COM Associate
Professor Sam Kauffmann will
air tonight on PBS.
Immediately after visiting Murambi, he wrote the film's narration, returning to the memorial later to shoot footage of the site, including the preserved remains of victims exhumed from mass graves. "I was very moved by seeing it," says Kauffmann. "You can see hair, muscle, tissue. It was really staggering."
Besides the remains, Kauffmann filmed the rooms of the building, the surrounding hillsides, and the nearby villages. After returning to BU in August, he spent the next four months creating Massacre at Murambi, which is narrated in French, Rwanda's colonial language, with English subtitles.
"I feel like a film camera can be a real tool for social justice," Kauffmann says. "I have the ability to make films to try to improve the world instead of just making films that sell popcorn."
He explores the similarities between the genocide in Rwanda and that currently happening in the Darfur region of Sudan. "So many people said they would never allow a genocide to happen again," Kauffmann says. "The lying and hypocrisy seemed to come out of the footage. It's been three years since the world became aware of Darfur."
The film has gained attention at several film festivals, including the Seattle International Film Festival, the Big Muddy Film Festival, the Boston International Film Festival, the Non Violence International Film Festival, and the SURGE Film Festival. It won the Global Justice Award at the Media That Matters Film Festival.
"People do seem to respond to the film," Kauffmann says. "Most people are surprised how effective something as short as five minutes can be. My intention was to do what a filmmaker does: take something that moves you and make a film about it, share that emotional moment with as many people as possible."
Kauffmann has made other films on social issues, including 2004's Living with Slim, about children in Uganda who have HIV or AIDS, and a film on Boston's school desegregation during the 1970s. A list of Kauffmann's films is available on his Web site.
Massacre at Murambi airs today, June 26, at 10 p.m. on PBS. To check local television listings, click here.
Abby Jordan can be reached at ajordan@bu.edu.