Framingham, BU Celebrate 60 Years of Health Study
U.S. Secretary of Health and Human Services speaks at anniversary event
In 1948, when the Framingham Heart Study began, the term "risk factor" hadn't yet been invented, and the idea that diet, exercise, and tobacco use could affect a person's cardiovascular health seemed almost revolutionary. To recruit volunteers, the researchers literally went door to door throughout Framingham, Mass., asking people to participate by having regular physical examinations and answering questions about their lifestyles. That year, more than 5,200 residents between the ages of 30 and 62 signed up.
Now, 60 years later, the study — originally under the auspices of the Public Health Service and now sponsored by the National Heart, Lung, and Blood Institute of the National Institutes of Health and run by Boston University since 1971 — is working with its third generation of Framingham residents. It has yielded landmark results that have changed the way doctors think about treatment and prevention of cardiovascular disease, and it is now poised to make even greater contributions to personalized medicine with the release of the clinical records and genetic data of 9,000 of the study's 14,000-plus participants to the scientific community. Through the SHARe (SNP Health Association Resource) program, researchers will be able to use genetic markers, known as single nucleotide polymorphisms, or SNPs, to compare an individual's genetic data with his or her clinical history, offering new insight into the relationship between genetics and health.
On November 29, the study's leaders are gathering in Framingham to celebrate its 60th anniversary. Joining them are hundreds of study participants, along with Mike Leavitt, the U.S. Secretary of Health and Human Services, NIH Director Elias Zerhouni, Elizabeth G. Nabel, director of the National Heart, Lung, and Blood Institute, and Boston University President Robert A. Brown.
BU Today spoke with Philip A. Wolf, the study's principal investigator and a professor of neurology, medicine, and public health at BU's School of Medicine, about what the study has yielded and the potential for new discoveries.
BU Today: What do you see as the Framingham Heart Study's most significant accomplishment since its founding?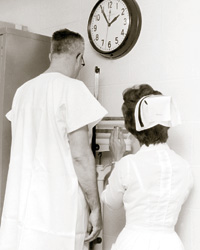 Wolf: Framingham changed the focus of health care from treating sick people to trying to prevent healthy people from getting sick. The study identified the risk factors for diseases of the heart and blood vessels—the idea that hypertension, high cholesterol, and, I believe, cigarette smoking were key risk factors for developing coronary disease. And the idea that high blood pressure, elevated blood cholesterol, obesity, and again, cigarette smoking were predisposing factors to developing a heart attack and stroke.
What does knowing these risk factors enable doctors to do?
What has emerged are various risk profiles that make it possible to construct the probability of developing a heart attack, or a stroke, or other conditions, like peripheral arterial disease and peripheral vascular disease, by taking into account the contribution of each of these risk factors to get a quantitative probability. So if you're this old, and you're male, and your blood pressure is such and such, and your good cholesterol is too low and bad cholesterol is too high, and you smoke, and you have diabetes, you have an elevated risk of developing a heart attack — and this profile approximates what your risk is compared to an average person of your age. It gives the physician and the patient real information as to what the risk is and information as to how you can reduce the risk.
You're currently examining the third generation of participants. What are the additional benefits of studying this group?
One of the benefits of the third generation is that we know the condition of their parents and grandparents. In their grandparents, we know who had heart attacks and strokes and who developed Alzheimer's, and in the parents we know the same, and we also know about something called subclinical disease [an illness with no detectable clinical symptoms]. We've been able to image their hearts and blood vessels and brains and measure the various pressures in their arteries, and so we can get an indication of subclinical disease in the parents of the third generation. That now gives us an opportunity to collect information to see what's been happening over the decades. We're also able to relate their genetic information to that of their parents and grandparents, and search for genetic clues and relationships between their genes and their environment.
What will the Framingham data, distributed through the SHARe project, do for the scientific community?
Framingham has collected enormous amounts of what's called phenotypic information, or traits. We know the blood pressures of the first generation. For the second generation, we have similar information on all sorts of personal characteristics and habits — smoking, exercise, diet, as well as blood pressure and vitamin levels in the blood. This enormous amount of phenotypic information can be related to genetic information. Through SHARe, we've been able to get 550 of the SNPs analyzed on about 9,000 of the Framingham subjects and relate that to hundreds and hundreds of traits in an attempt to find genetic factors predisposing to many of the chronic diseases and conditions.
What new possibilities does SHARe open up for cardiovascular research?
It's not only for cardiovascular research, but for all kinds of conditions. It's the idea of finding what the Secretary of Health and Human Services calls personalized medicine — if you have these particular genes, you're at a much greater risk of developing heart attack, and someone in your condition would take an elevated cholesterol level much more seriously than someone who didn't have that genetic makeup. It allows you to focus on the individual, by not only taking into account their lifestyle and the risk factors in their blood, but what their predisposition is to disease, to high blood pressure, to high cholesterol, and to heart attack.
How long do you think the study will continue?
We hope to be funded to do another seven years, which would examine the second and third generations. We've been consistently supported by the National Heart, Lung, and Blood Institute, and we've been very productive — I hope if we continue to be that way we'll continue to be able to make contributions. But this is a project involving the people of Framingham. Two-thirds of the adults in Framingham between the ages of 30 and 62 participated in 1948, and now it's their children and spouses and grandchildren and spouses. We're entirely dependent on their commitment and cooperation.
Additional reporting by Rebecca McNamara (CAS'08, COM'08).
Jessica Ullian can be reached at jullian@bu.edu.
+

Comments