Fire Safety: What Should We Do?
Students respond to second blaze in three weeks
Boston University students returned from spring break on Sunday to learn that a deadly fire, the second in three weeks, had swept through an off-campus apartment that was rented by a BU student. The fire, which started early Friday morning, March 16, in a third floor apartment at 49 St. Mary's St., Brookline, took the life of Derek Crowl, a 19-year-old student from Bloomsburg University in Pennsylvania, who was visiting friends at BU. Brookline fire officials say the cause of the blaze has yet to be determined, but they suspect that it started from embers in a charcoal grill that was left unattended on the back porch of the third-floor apartment. Three weeks earlier, on February 24, two Boston University students died in a fire in an off-campus apartment at 21 Aberdeen St. in the Fenway. That fire is believed to have started from a candle left burning while the students slept, and it seriously injured a third BU student. Both fires also displaced many students.

BU Today asked students what needs to be done to prevent such tragic accidents from happening. This is what they said:
Matthew Scholder (CAS'07), lives off campus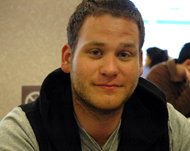 Matthew Scholder (CAS'07)
Photo by Paul Heerlein
I do think BU has an obligation to try and educate students about fire safety, at least if the students live on campus. Students should know their evacuation routes. I think the e-mails that the dean of students recently sent out were really effective. I know a lot of people who read them. I have smoke detectors and a carbon monoxide detector, but no fire extinguisher. I think I have a pretty good grasp of fire safety, but if faced with an actual fire, I'm not sure how I'd react. I use common sense. Students tend to think that we're indestructible, but we're not.
Lake Trechsel (ENG'08), lives on campus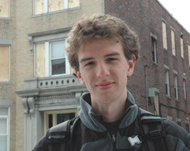 Lake Trechsel (ENG'08)
Photo by Paul Heerlein
I think it's a good idea for BU to teach fire safety and fire prevention at Freshman Orientation. Considering the size of the BU community, I don't think it's all that strange that there have been so many accidents. Statistically speaking, things are going to happen.
Daniel Fierstein (LAW'09), lives off campus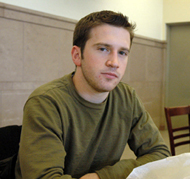 Daniel Fierstein (LAW'09)
Photo by Paul Heerlein
I don't know if it's fair to connect the two fires and say there's a serious problem; it could just be a bizarre and horrifying coincidence. But there certainly is a school responsibility to publicize and encourage fire safety behavior in the off-campus places. You hate for two deaths to lead to more aggressive preventive action, but as time goes on, it shouldn't be hard to send out safety reminders via e-mail; a regular heads-up wouldn't be a costly thing to do. We all have short-term memories, unfortunately.
Carolyn Fryzel (CAS'08), lives off campus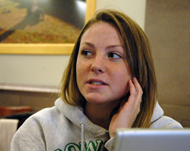 Carolyn Fryzel (CAS'08)
Photo by Paul Heerlein
It helps to be more aware about where you're living; a lot of people grow up so sheltered that they get into the real world and don't know what's dangerous. I've heard from a lot of people that this is making them want to move back to campus. I know that my dad really wishes that I would.
Tabitha Ozturk (CGS'08), lives on campus
It's a personal responsibility; you should be able to take care of yourself. If your parents think you're old enough to live off campus, you should know enough to be cautious and be responsible for your own actions. I think BU handled things pretty well in terms of showing concern and keeping people informed. It's not the school's responsibility if something happens off campus. Even if there was a seminar on fire safety, how many people do you think would go?
Jennifer Charles (LAW'08), lives off campus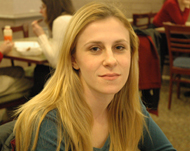 Jennifer Charles (LAW'08)
Photo by Paul Heerlein
The bottom line is students need to be more aware of their surroundings. I think BU's offering a lecture on fire safety or sending out e-mail about fire prevention would make sense, although there's a difference between knowing fire safety and living in a safe building. For example, I think I'm knowledgeable about fire prevention, but there's no fire extinguisher in my apartment off campus. I need to contact my landlord about that.
Billy Coscino (CAS'08), lives off campus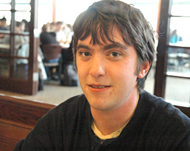 Billy Coscino (CAS'08)
Photo by Paul Heerlein
We all know we shouldn't leave candles burning, but sometimes accidents happen. We make mistakes. I live in off-campus housing, and I think I know enough about fire safety that I won't catch my place on fire. We don't have a fire extinguisher, although our smoke detectors do work. I've never used a fire extinguisher, but I'm sure I could figure it out. I think responsibility rests with the students. I don't think BU should make something like fire safety classes mandatory. I don't think it would be taken seriously.
Philip Rosace (CAS'08), lives off campus
We have working smoke detectors and a fire extinguisher at our apartment. I don't really know how to use a fire extinguisher, though. These fires were purely accidental, so I'm not sure how effective a class in fire prevention would be. It has good intentions, but I don't think it would fly with students. We learn fire prevention when we're little.
Vicky Waltz and Brett Milano contributed to this article.

Art Jahnke can be reached at jahnke@bu.edu.