Comic Conspiracy
BU religion grad student invents local lore in new graphic novel
When A. David Lewis, a Ph.D. candidate in religion and theological studies, isn't studying biblical literature, he's plotting action-packed tales for his comic books.
Last fall, Lewis (GRS'10) teamed up with illustrator Jason Copland to publish Empty Chamber, a "rock 'em, sock 'em, two-part miniseries" whose conspiracy theory plot takes place in Boston.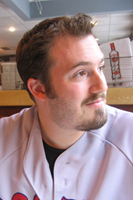 A. David Lewis (GRS'10)
wrote "Empty Chamber,"
an espionage thriller
comic book.
The espionage thriller is a departure from the darkly psychotic stories of Mortal Coils, Lewis' first comic book anthology, and the critically acclaimed graphic novel The Lone and Level Sands, which tells the biblical account of Exodus from the perspective of Pharaoh Ramses II.
"Without giving too much away," Lewis says, "Empty Chamber is essentially about a typical renegade American general who is plotting to destroy the U.S. without a drop of blood being spilled, and there's a group of unlikely heroes trying to thwart him."
The story, whose protagonist is a Pakistani-American orphan, is a commentary on chemical warfare and America's fear of foreigners in a post-9/11 society. "I had this fun idea of how to destroy the U.S. — not that I want to destroy the U.S.," Lewis says, "and I realized that the threat to America should be American-made. This philosophical stance gave me the foundation on which to stage some kick-butt action."
Working with Copland, who also drew some of the stories in Mortal Coils, Lewis weaves an intriguing — and sometimes violent — tale of suspense. The book's opening takes place in the deserted library of Companion University, a school that Lewis says is modeled on BU, but sits across the river, in Cambridge. When university employee Aamer "Matt" Mahtganee receives a desperate e-mail with a coded image from his former foster brother and current military specialist James, he immediately becomes one of the U.S. government's most wanted conspiracists and the prime target of diabolical General Julian Fleischer. Meanwhile, Fleischer attacks James, and Matt must depend on ex-Army mercenary Samantha Maddox and Secret Service Agent Kelly Alexander to save him.           
Cover art of "Empty Chamber."
Boston readers will recognize some familiar landmarks, including the Charles River, the Fenway's Victory Gardens, the Red Line, and South Station. Empty Chamber also offers its own hypothesis about why the city's infamous Big Dig road project has taken more than 20 years to complete. "Let's just say that the U.S. government is hiding something under all of that dirt," Lewis says.
The book's sequel, due to hit stores in April, will be released alongside a reissue of the first book. Additionally, the production company Comflix Studios is adapting the comic into four three-minute animated shorts that fans can download onto their computers, iPods, and cell phones. To view a trailer, click here.
Lewis' appreciation of the comic book genre began when he was a teenager. "I've always been a voracious reader of everything, from poetry to biographies to science fiction," he says, "and when I was growing up, my parents also bought me comic books."
Because his English and psychology professors at Brandeis University encouraged discussions of comic book literary theory and its connection to pop culture, Lewis didn't abandon his hobby in college, and after graduation he began composing his own stories.
"I don't think it's much of a stretch to go from studying biblical literature to writing comic books," says Lewis, who also lectures on the scholarly merits of comic art. "And actually, both Mortal Coils and The Lone and Level Sands were deeply academic."
Despite his busy class schedule, Lewis manages to balance his comic book projects and his scholarly work. He's currently writing a follow-up to The Lone and Level Sands, to be released in December, and in June one of his stories will appear in the anthology Postcards: True Stories That Never Happened. "It's been a big year," he says, "and it's a lot of hard work. But I wouldn't have it any other way."  
Lewis' comics and graphic novels can be purchased at New England Comics in Allston, Comicopia, and Barnes & Noble at BU in Kenmore Square, and online at Amazon.com.

Vicky Waltz can be reached at vwaltz@bu.edu.