Choreographer Porter Makes the Everyday Move
Dancers Eunice Woods (CFA'09) and Charles Howes (CAS'09) push, pull, and glide away from each other. Their movements appear practiced and seamless, but they had created the steps in class just five minutes earlier, under the direction of choreographer Claire Porter, in residency at the BU Dance Program through today.
"I think workshops like this help people realize how simple movement can be," says Howes, who has danced for nine years. "We see these elaborate, sequenced dance moves and don't think about the specifics of taking one step or moving left to right. You realize the big combinations start from the basics."
Porter's work with the BU Dance Program and the student-run Dance Theatre Group culminates in a performance tonight, October 26, at 8 p.m. at the BU Dance Theater. Several students will perform in Connections, a work choreographed by Porter.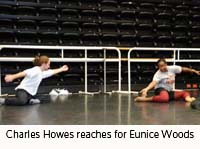 "The student piece will seem quickly made, with improvisational structure," says Porter, whose work has been performed at the Knitting Factory, Danspace Project, Jacob's Pillow, and the American Dance Festival. "My idea started with a question: how did I get to where I am? Because I knew so-and-so, who knew so-and-so — the idea that we're influenced by each other."
Porter will perform vignettes from her Portables series, which explores moments in everyday life, adding exaggerated movement and dialogue.
"I try to trick myself," she says. "I ask, how do you create something that's fresh? So I give myself a problem." Her characters in Portables face several problems: a woman interviewing for a job, a museum visitor getting lost, and a pianist finding her piano hasn't arrived for her concert.
"She's known for creating characters in her dances," says Woods, a theater major who started dancing in college. "It helps me connect with the movement using her narrative."
The informal performance with Claire Porter and members of the Dance Theatre Group is tonight, October 26, at 8 p.m. at the Boston University Dance Theater, 915 Commonwealth Ave. For more information, call 617-353-1597 or click here.
Kimberly Cornuelle can be reached at kcornuel@bu.edu.