Boston Rocks: For 40 Years, BU Has Been Turning Up the Volume
It was an unlikely spawning ground for one of the most successful bands in the history of rock and roll. In the spring of 1970, an apartment at 1325 Commonwealth Ave. — a building owned by Boston University — was rented to five guys who didn't exactly go to college. They somehow managed to cough up the $300 rent each month to share three bedrooms and one bathroom, stacking guitars and amps along all available wall space. None of them had day jobs, so they spent all their waking hours writing songs and rehearsing, pausing only to catch The Three Stooges on TV. For anyone attending BU at the time, they were a hard band to miss: they could be seen playing the George Sherman Union and dormitory quads between shows at other unspectacular venues, such as the Franklin Park Zoo, naval bases, and area high schools. For years survival depended on taking any gig that came along. And any student who got through BU at the time without hearing their music has certainly heard them since: they're called Aerosmith.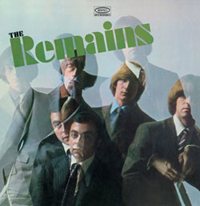 At various times in various decades, the music scene seemed to swirl around BU. There were the clubs, like Kenmore Square's Rathskeller — affectionately known as the Rat — and the Paradise, all within blocks of the University. There were the BU students who formed the bands and those who followed them, mobbing the clubs and providing the critical mass required to create a cultural scene and a Boston sound.
Listen to the Cars, Mission of Burma, or the Pixies, and you'll hear a relatively erudite tone in the lyrics and a sophistication in the music that's tailor-made for an educated audience. Many of the musicians themselves were undergraduates. And while the Remains may be the only great band made up entirely of BU students, musicians in many Boston bands came to the city to attend Boston University.
They include talents from Seth Justman (CGS'71), the keyboardist who completed the classic lineup of the J. Geils Band, to Mary Timony (CAS'92), one of the maverick songwriters who made '90s independent rock so vital.
Even when there weren't students in the band, the music was colored by its proximity to the University. Aerosmith didn't just live on BU territory; they played enough parties and mixers to send them on their way to being the unstoppable live band they became. In fact, generations of musicians cut their teeth at those parties — even the future superstar band Boston played an obscure BU show in 1974 under the prestardom name Mother's Milk. Anyone writing songs about Boston was bound to mention the University sooner or later. Punk hero Jonathan Richman's "Modern World" throws this comeback at a woman who is too cool to talk to him: "Put down your cigarette and drop out of BU!" Local punk godfather Willie Alexander was more complimentary than Richman, singing about his "BU baby" in several tunes.
Only the songs remain
For the Boston-based bands that started in the early '60s, life was strangely similar to that of bands hoping to make it today. They had to scrounge for gigs, lug their amps down the street, play weekday nights for nobody, and hope that some record label would notice. That's how the Remains began, in 1963. Now remembered as the first great Boston band, the Remains were formed by four BU undergraduates living in Myles Standish Hall: singer-guitarist Barry Tashian (CGS'65), bassist Vern Miller (CFA'69), keyboardist Bill Briggs (CGS'66), and drummer Chip Damiani (SED'64). The sound was raw and bluesy, an early version of punk rock, and the band jelled through its early shows at the Rat.
"We started playing together in our dorm and thought we'd make some extra money by carrying our gear across the street to the Rathskeller," Tashian says. "They had just opened up the huge space downstairs, or at least it seemed huge to us. There was a jukebox, a few picnic tables, a few beer signs, a stage made of boards on crates. On a good night we'd do a song like 'Got My Mojo Working' and have a conversation with our instruments, like we were all playing to a central focal point."
The Remains eventually went from Kenmore Square to The Ed Sullivan Show and scored a minor national hit with "Diddy Wah Diddy." Over the years, their records have been rediscovered, and their one LP has  recently been reissued. But as far as Tashian is concerned, nothing was more fun than those early club and frat house gigs. Those memories are even better than the ones of the last show the Remains played, on tour with the Beatles, a huge outdoor event in San Francisco in 1966. "The stage was big and we were a long way from the audience," Tashian says. "I remember turning around and seeing the fog rolling over the water. It seemed very ominous." As it turned out, the night wasn't great for the headlining band either. It was the Beatles' final concert.
Like many bands from the BU neighborhood, the Remains made a valuable friend in fellow undergraduate Don Law, Jr. (CAS'68), who helped them get a record label deal. This was the first of many savvy career moves by Law, who would become New England's leading concert promoter. Music was the Law family business; his father was a Columbia Records producer and worked with a number of important country acts. Being at BU gave Law a perfect opportunity to scout bands for Columbia, which was then moving into the rock market. He would also do some bookings for the Hallucinations, a psychedelic blues band whose singer, Peter Wolf, would become a star after jumping to the J. Geils Band.
By the time he graduated, Law was promoting concerts at the Boston Tea Party, in a cavernous building on Berkeley Street, which opened in January 1967 (it later moved to the Lansdowne Street site where Avalon stands now). According to Fred Goodman's The Mansion on the Hill, Law was extraordinarily disciplined, a man who knew how to translate great concepts into business successes. He also had a sharp eye for emerging talent, particularly from the U.K.: Elton John, Led Zeppelin, and Fleetwood Mac all played some of their first U.S. shows at the Tea Party. Law's career would only grow in the coming years; of the 76 rock shows staged at Boston Garden between 1976 and 1980, Law promoted all but 3.
Brett Milano (COM'82) is the author of The Sound of Our Town, published this month by Commonwealth Editions.