Berlioz's Requiem Revealed
Conductor Andrew Litton on BU Symphony's April 10 concert
Tomorrow night, Symphony Hall will be crowded with more than 300 musicians, including four off-stage brass ensembles and a full chorus, as the Boston University Symphony Orchestra and Symphonic Chorus perform Hector Berlioz's Requiem, a thunderous mass for the dead.
The soloist for the Requiem is tenor Yeghishe Manucharyan (CFA'01), who has sung at Carnegie Hall and with the New York City Opera and the Boston Cantata Singers.
Guest conductor Andrew Litton, music director emeritus of the Dallas Symphony Orchestra, has been on campus for several days working with the BU musicians. The French composer's piece, he says, has "many passages of ravishing beauty."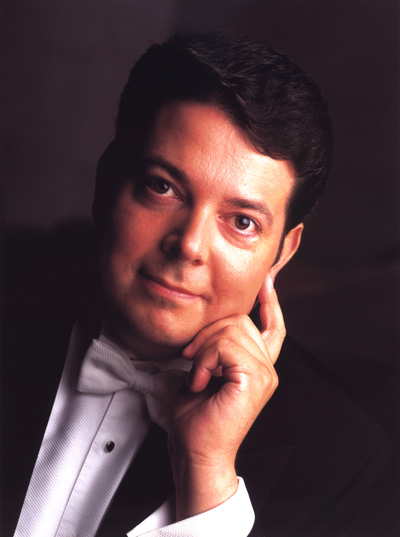 Andrew Litton. Photo by
Danny Turner
BU Today spoke with Litton about what concert-goers should know about the Requiem.
BU Today: What's special about the Berlioz Requiem?
Litton: The most interesting thing is that there are four brass bands, which Berlioz wanted set up in the four compass points of the cathedral. To replicate that in Symphony Hall is a bit of a challenge, because it's a rectangle and it's hard to find enough space for all these players. But we've managed to do it, and it creates an incredible surround sound experience in the hall that you can't really replicate, even with the best home theater systems. The most unusual effect — and we think it was Berlioz commenting on heaven and earth — are the low, low trombones answering flutes. The trombones are at the back of the hall, which creates a strange effect of low, buzzy trombone and high woodwind sound.
Besides the four brass bands, there are eight kettle drums. Berlioz was himself a percussionist, so he was fascinated by the possibilities of what you could do with lots of percussion, and this piece is no exception. He asks for 10 cymbal players, which we don't have. Frankly, that would blow the roof off Symphony Hall. Instead we're compromising with four.
And there's a huge chorus part. It's probably got the most singing of all the requiems — they never stop. Another unusual feature is that many requiems have a group of soloists. This has a tenor soloist, but he's supposed to be hidden — as if coming from above, from heaven.
I keep coming back to the orchestration because that's probably the single greatest and most unique aspect of Berlioz. The idea of setting a church mass to music certainly wasn't new, and the way Berlioz does it isn't that unusual, with all the traditional Latin texts you would hear in a requiem. But what's incredible is the way he manipulates all these forces to create these effects, so it becomes much more earth-shaking than one would think of for a sacred piece.
What is Berlioz trying to convey?
Death and judgment, and the awesomeness of God.
What are some of the challenges of conducting an orchestra so large?
The challenges are huge with the ensemble. The south band is all the way at the back of Symphony Hall, and if they play with what they hear, they're going to be a half beat behind. So they have to anticipate what they're seeing, which is more true to what they should be playing than what they're hearing, because light travels faster than sound. I have done this several times before, and the hope is the sound that arrives to the majority of the audience sort of mid-hall will be at the right time. If they sound OK to me, they're probably way too early to the people in the back.
Did Berlioz's Requiem become a model for future composers?
The amazing thing about Berlioz is that this piece was written in the 1830s, 10 years after Beethoven died. He was so far ahead of his time that sonically he was able to create these amazing effects. Berlioz is often referred to as an iconoclast, and he really was. He came up with many innovations in the way of orchestration and harmonic writing, just the way he layers his chords that nobody had ever done before. He opened doors in people's minds that nobody had ever thought of before. It wasn't until a century later in our country when Charles Ives starting writing crazy things that we had somebody remotely similar.
What crazy things did Berlioz do in his Requiem?
Having eight kettle drum players is totally nuts. By using eight players, he can make all sorts of harmonies. We know kettle drums have pitch, but they're usually there to reinforce the base line. Instead he's using them to make actual chords, and in fact the Requiem ends with the eight of them playing chords while the chorus sings amen. It's a strange sort of disembodied sound that you can't quite put your finger on. There are no ethereal floating strings taking you up to heaven.
Is there anything else listeners should pay particular attention to?
I think that after frightening everybody with all these eccentricities, there are many passages of ravishing beauty. One of my favorites is the first movement, which happily he brings back at the end. There are lots of contrapuntal writing, so suddenly we go from the craziness of Berlioz's tonality to something that sounds almost Baroque. There's a wonderful hodgepodge of styles in the piece, but it all definitely bears the stamp of this one crazy man.
The BU Symphony Orchestra and BU Symphonic Chorus will perform Berlioz's Requiem on Tuesday, April 10, at 8 p.m. in Symphony Hall, 301 Massachusetts Ave., Boston. Tickets, which are $20 for front orchestra and front balcony seats or $15 for Boston University students, faculty, and staff with a BU ID, are on sale through Monday, April 9, at the Tsai Performance Center box office, 685 Commonwealth Ave. After Monday, tickets may be purchased by calling the Symphony Hall box office at 617-266-1200 or through its Web site. The BU discount is available only at the Tsai box office.
Catherine Santore can be reached at csantore@bu.edu.