World AIDS Week Raises Campus Awareness
BU offers free HIV/AIDS tests
Most Boston University students can't remember a world without AIDS. The disease that has killed more than 25 million people worldwide turned 25 this year, making it older than the majority of BU's undergraduate population.   
   
In recognition of World AIDS Week, November 27 to December 1, a global effort to raise awareness about HIV/AIDS-related issues, testing for the HIV/AIDS virus will be available for a limited time at the BU Student Health Services. This is the first time that testing has been made available at the University, according to David McBride, director of Student Health Services and an assistant professor of family medicine at the School of Medicine.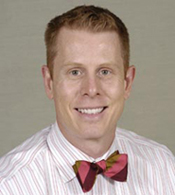 David McBride, director of Student
Health Services.
"I think it's extremely important that we offer these tests," McBride says. "The Centers for Disease Control recently recommended that testing be a routine health-care procedure for all patients because we know that early detection decreases the likelihood of spreading the disease."
An advocate of such early detection, Anni Baker (CAS'06, SPH'07) has been working to bring HIV/AIDS testing to campus for several years. "College-age students, for a variety of reasons, tend to put themselves at a high risk of infection," says Baker. "The reality is that half of all new infections in the United States occur in people 25 years or younger, so it's crucial for people who think they may have been exposed to the virus to get tested, and if they are infected, seek treatment and take proper precautions to avoid spreading the disease."
Confidential testing will be available on a walk-in basis throughout the week, Baker says. Counselors from the Sydney Borum Jr. Health Center, a Boston facility that offers medical and counseling services for LGBT youth, will administer a rapid blood test involving a small finger prick and yielding results in about 20 minutes. The total appointment time will be one hour and includes pre- and post-test counseling.
McBride strongly encourages students who think they may have been exposed to the virus to be tested. "Students should not be afraid," he says. "While it is certainly a serious disease, AIDS is no longer a death sentence because there are many antiviral drugs that allow patients to live relatively healthy lives."
However, students should not be lulled into a false sense of security, warns  Alison Werner (SAR'07), comanager of the BU Community Service Center's Project Hope, whose volunteers plan and implement AIDS/HIV outreach and educational activities. "Every day there are reports of different strains of HIV that are mutating," she says. "So while drugs like AZT may work for one strain, they won't necessarily work for a patient who has a different strain. People may think there's a safety net, but there isn't one."  
In addition to the free testing, the Office of Residence Life's Wellness and Residential Education is partnering with Project Hope, BU ONE, a branch of the ONE Campaign, a group working to fight AIDS and poverty, and Face AIDS, a student campaign to raise money to fight AIDS in Africa, to host a variety of informative events throughout the week.
"Project Hope's mission is to promote awareness and education on campus through volunteer efforts in the city," says comanager Mark Foelster (SAR'08). "And World AIDS Week is our main opportunity to pass information to students."
"Around 40 million people throughout the world live with HIV, and that number increases in every region every day," adds Prachi Patel (COM'07), president of BU ONE. "World AIDS Week is an opportunity for people worldwide to unite in the fight against HIV and AIDS."
World AIDS Week kicks off on Tuesday evening with a screening of the documentary A Closer Walk, which examines the global AIDS epidemic. Wednesday will feature a speaker from the HIV-prevention program Positive Educators Reaching Youth, and on Wednesday, Project Hope, in conjunction with the Peace Corps, will host an HIV/AIDS panel at the Howard Thurman Center. World AIDS Week will be the topic of Dean of Students Kenneth Elmore's Friday coffee and conversation session, and at 5 p.m., a candlelight vigil will be held at Marsh Chapel. Additionally, on Friday night, there will be a 7 p.m. benefit concert hosted by BU ONE at the Sargent Activities Center, and the film 3 Needles will premiere at Harvard Square's Brattle Theatre at 7:30 p.m.
"Project Hope also plans to have link tables set up on Marsh Plaza for the entire week," says Werner. "We'll be passing out red ribbons and free condoms, in addition to information related to HIV and World AIDS Week."
 
Events at BU for Worlds AIDS Week
Tuesday, November 28
A Closer Walk
Room 101, College of Communication
7:30 p.m.
Wednesday, November 29
Lecture with speaker from Positive Educators Reaching Youth
Room 211, College of Arts and Sciences
6–7 p.m.
MTV Campus Guide to Safer Sex
and Vh1 AIDS: A Pop Culture History
Room 211, College of Arts and Sciences
7–9 p.m.
Thursday, November 30
Peace Corps HIV/AIDS Panel
Howard Thurman Center
4:30–6:30 p.m.
Friday, December 1 (World AIDS Day)
Health Fair, AIDS Quilt, and free rapid-HIV testing
Boston Medical Center's Menino Pavilion
11 a.m. to 2 p.m.
Coffee and Conversation with Dean Elmore
Howard Thurman Center
2–4 p.m.
Candlelight Vigil
Marsh Plaza
5 p.m.
BU ONE Benefit Concert
Sargent Activities Center
7 p.m.
3 Needles
Brattle Theatre, 40 Brattle St., Cambridge
7:30 p.m. 
Vicky Waltz can be reached at vwaltz@bu.edu.