Women in Wartime
William Keylor on how women heed the call to action
It was a cold October night in 1944, and Frances Slanger, a nurse with the 45th Field Hospital Unit of the U.S. Army Nurse Corps, was wide awake. One of four nurses who waded ashore on the Normandy beach on D-Day, Slanger had spent the last four months caring for thousands of wounded soldiers. Unable to sleep, the 31-one-year-old lieutenant penned a letter to the military newspaper Stars and Stripes.
The letter is one of many that will be examined during the Women in Wartime seminar, to be held at Mugar Memorial Library at 5 p.m. on Tuesday, December 5. Led by BU archivist Diane Gallagher and William Keylor, a College of Arts and Sciences professor of history and international relations, the seminar will explore ways that women — from Florence Nightingale to Bette Davis — heeded the call to action. Participants will have the opportunity to view original letters, including a copy of Slanger's to Stars and Stripes, manuscripts, and photographs from the archives of the Howard Gotlieb Archival Research Center.
Slanger's letter, mailed an hour before she was killed by German artillery, prompted such an overwhelming response that the Roxbury, Mass., native was posthumously awarded a Purple Heart. "We have read several articles sent by grateful GIs praising the work of the nurses," she wrote. "Praising us — for what? Sure we rough it, but in comparison to the way you men are taking it, we can't complain … But you — the men behind the guns, the men driving our tanks, flying our planes, sailing our ships, building bridges — it is to you we doff our helmets … It is we who are proud of you, a great distinction to see you open your eyes and with that swell American grin, say, "Hiya, babe."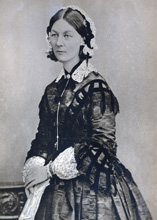 Florence Nightingale was one
of the first female nurses
during the Crimean War.
Photo courtesy of the Howard
Gotlieb Archival Research Center
The seminar is part of the Student Discovery Seminars, which run through the spring and include such topics as African-American History Makers in Massachusetts (January 16), Modern Music and Dance (February 13), and Tales of the American Civil War (February 27). 
BU Today spoke to Keylor about the historical roles of women during wartime and how they have changed in the 21st century.
BU Today: Historically, what have been women's roles in wartime?
Keylor: In times past, women traditionally performed the functions on the "home front" that men had performed before being sent to the battlefront. This was particularly true of World War I and World War II. In addition to entering the factories and war plants, women also served in dangerous areas as nurses (beginning with Florence Nightingale in the Crimean War). There are also some examples of women fighting in uniform on the battlefield, such as the Women's Battalion that was formed by the Provisional Government of Russia in 1917 and which saw action against the Germans before Russia pulled out of the war.

How have women's wartime roles evolved over time?
As warfare has become more dependent on economic resources and technological prowess and less dependent on pure physical strength, the roles of women in warfare have expanded significantly. Women have been able to assume a number of tasks that are critical to military success, unlike the days when the outcome of war was determined by hand-to-hand combat by infantrymen, or cavalry charges.

What are women's roles in modern-day wartime?
Women have assumed more active roles in military forces in our own day. For example, the Israeli and American armed forces have integrated women into their ranks.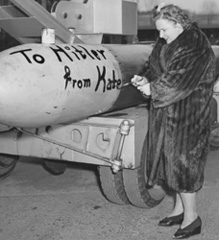 During World War II, singer Kate
Smith sold $600 million in defense
bonds. Photo courtesy of the Howard
Gotlieb Archival Research Center
Are there any specific examples of how women have changed the course of a war?
Women played an important role in Fighter Command during the Battle of Britain, and should be remembered along with that group of RAF fighter pilots hailed by Churchill when he declared, "Never in the field of human conflict was so much owed by so many to so few." Women also played an important role in the French resistance to the German occupation between 1940 and 1944 by serving as messengers and espionage agents for the Allies. This help was of great value to the Allied forces that landed in Normandy in June 1944 as they proceeded with the liberation of France.

In the past, how have women changed wartime work patterns?
In both World War I and World War II, women took jobs previously held by men and proved that they were entirely capable of doing them well. But at the end of both wars, the demobilization of the soldiers resulted in the return of women to their traditional roles as wives and mothers. The arrival of women in the workforce in large numbers did not begin until the 1970s.

Vicky Waltz can be reached at vwaltz@bu.edu.