Two men and a ballet
Mark Morris and Mikko Nissinen share a vision and a stage
Choreographer Mark Morris hardly fits the laced-up notion of ballet that people outside the dancing world might imagine. Morris curses, he shouts, he interrupts, and he laughs. A lot. His longtime friend and colleague Mikko Nissinen, an internationally celebrated dancer and the artistic director of the Boston Ballet, is notably more reserved. But the powerful visions of both dancers melded Tuesday night at the Tsai Performance Center as they described Grand Slam, Four Powerful Works; Four Intriguing Choreographers, a new collaborative series that will be performed next month by the Boston Ballet.
At Dance Spotlight, sponsored by the Howard Gotlieb Archival Research Center, the BU community enjoyed a preview of the series, featuring a short dance segment and a discussion with Morris and Nissinen, moderated by Rachel Yurman, Boston Ballet's director of development communications.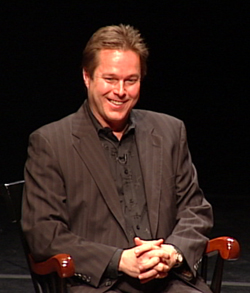 Mikko Nissinen
The evening's single dance, "Up and Down," was performed by Tai Jimenez, who made her debut as Boston Ballet's first African-American female principal dancer, and company members Sabi Varga, Pavel Gurevich, and Chris Budzynski and danced to the piano accompaniment of Freda Locker playing music by Alexander Glazunov.
The preview was a glimpse into the Grand Slam series, which will run from March 16 to 26, 2006, at Boston's Wang Theatre.
Nissinen and Morris are both highly regarded for their artistry and style. Nissinen has been working to create a fresh image for the Boston Ballet, with classical and neoclassical works, including John Cranko's Taming of the Shrew and Rudolf Nureyev's Don Quixote.
"You always consider the best interest of the dancers," he said, a hint of his Finnish origins evident in his quiet speech. "I have a huge responsibility to the choreographers in giving them the instruments they need."
For much of the evening, Nissenen sat quietly, poised and smiling in a pin-striped suit, while Morris, a cream-color pashmina draped over his dark shirt, entertained the audience with his thoughts about dance. Morris said he rejects the idea of "calling [dance] contemporary just to get people who are scared of ballet to go see it."
"If you're expecting a groovy, dangerous dance," he says, "I haven't made it up.
Mark Morris
Indeed, Morris appeared to be so in tune with motion that even his fingers danced as he spoke. Asked what inspires him, he balked, then confessed that he often gets "cues and desires from music, directly and on purpose."
Pressed for more, Morris opened up. "I live in the world," he said. "I travel a lot, and I'm curious. I'm alive. And that's a really, really interesting thing to be."
No one in the audience could disagree.