Troy brings a guest speaker and an iconic dog to his classroom
David Troy, SHA lecturer, shows students that hotels can be homelike.
Students in SHA lecturer David Troy's Hospitality Advertising and Public Relations course were used to having a guest lecturer, fresh from the field, stand in front of the class and answer questions from curious students. But this day another guest was eagerly circulating around the room, and this one had four legs, not two.
When Troy invited Suzanne Wenz, regional public relations director of the Fairmont Hotels & Resorts, to speak to his class, she suggested that she bring along a friend: Catie Copley, the Fairmont Copley Plaza's "canine ambassador," a five-year-old black Labrador retriever who guests can sign out for walks and runs. "We thought it was wonderful because she is an iconic symbol of the hotel and its outreach to the family traveler," Troy says.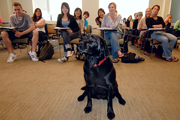 Catie Copley in David Troy's class.
Troy's students have heard from industry professionals before, but spending time with Catie made this visit especially unique. Troy says that the dog sat at the students' feet while Wenz spoke about how the black Lab has helped to better market the hotel. Catie, a Boston celebrity of sorts, perked up when she heard the click of a camera.
Troy, who teaches two other courses in the School of Hospitality Administration, says he would like students to gain an appreciation for the exciting side of hotel marketing. "I thought it was a great way to show the students that a hotel does not have to be just utilitarian," he says. "It can be part of the community, and homelike for the traveler."