Taking a breather during finals
Take a breather during finals and alleviate stress by practicing yoga.
Does the hectic end-of-term schedule of papers, projects, and final exams, the lack of sleep, and the constant studying make you feel ready to pull your hair out? Before you do, try to manage your stress by relaxing through practicing yoga.
Taking your mind off the event or situation causing you stress or anxiety is one way to alleviate stress, says Michael Halley, yoga instructor at the Fitness and Recreation Center. "By taking a few minutes of time out for stretching and breathing, you can draw your attention away from your mind and into your body," Halley says. "Then you can come back to the stressful activity, hopefully with a fresh and clear outlook."
The most relaxing aspect of yoga, he says, is the opportunity to breathe freely and easily. "It's not always so easy to do this on command so it can be beneficial to do a few stretching poses, which help the body to unwind," he says. "As the body gets more relaxed, deep and easy breathing comes quite naturally. After a few moments of deep calm breaths, the world often looks a lot brighter and the challenges we face can seem less daunting."   
 
For easy yoga positions that students and teachers can practice in their dorm rooms or offices, Halley recommends a pose where the head is lower than the waist — for example, bending over at the waist with your knees bent. Keeping your knees bent, lay your torso on your thighs. Next, cross your arms over your head, holding your right elbow with your left hand and your left elbow with your right hand. Then let your head dangle, allowing your neck to relax.
Remembering to keep your head and neck relaxed, Halley says, you can straighten your arms, put your hands on the ground, and walk your feet back a yard or so. "After a few breaths you can walk your feet back in and dangle from your waist again like before," he says. "Remember to breathe. If your breathing is restricted or short, you are working too hard and you should back off."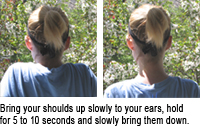 "These simple poses are helpful because they put you upside down, giving you a totally new perspective on things," says Halley. "They change your center of gravity and circulation patterns and allow the head and neck to relax."
 
While there are many beneficial yoga positions, Halley recommends not straying too far from the familiar during exams. "If you have never done yoga, just do the most simple poses, enough to stretch out the kinks and get your breathing to deepen and lengthen," he says. "And remember, during exams there is no substitute for eating right and getting enough sleep."