Some Vote, Some Don't, and Why
Students claim lack of information keeps them from polls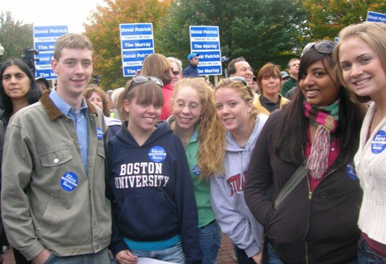 At a rally for gubernatorial candidate Deval Patrick, from left: Cory Kalanick (CAS'07), Nora Burnham (CAS'10), Krista Zalatores (CAS'10), Meghan O'Day (CAS'10), Esha Rakhit (CAS'10), and Whitney Veit (CAS'09). Photo by Sam Trzyzewski (CAS'07)
When Renee Rochon (COM'08) voted in the 2004 presidential election, she was among the 51 percent of 18-to-29-year-olds in Massachusetts who did so — the largest percentage in two decades. Two years later, she is about to join the millions of young people who aren't voting in this year's midterm elections.
"I haven't been paying attention," says Rochon. "I guess I don't care that much."
Despite efforts to get them involved, young people like Rochon are generally disengaged from politics, and from midterm elections in particular. One of the main reasons they stay away from the polls, students say, is lack of information — about the candidates, registration deadlines, absentee ballots, and even where to cast their vote.
"There seem to be a lot of barriers to voting. We need greater access to the information," says Brooke Feldman (SED'08, CAS'08), the president of the Student Union. To tackle the problem, the Union's Web site resource of the month provides information for voters, such as polling places and information about the candidates.
Another way of combating a lack of information about the electoral process is to get involved. Heather Ross, Boston coordinator of the nonpartisan voting rights organization MassVote, has seen increased interest from young people statewide in helping in this year's election, a good sign, she says, because becoming involved makes them more likely to vote.
"For example, students who become poll workers get interested in the election process," Ross says. "They have a chance to talk with the community — they see how it works. They get to see voting in action."
Joe Mroszczyk (CAS'07), the president of BU College Republicans, says he will be recruiting volunteers to help at the polls. Mroszczyk interned at the State House office of Lt. Governor Kerry Healey sophomore year and before that at her campaign office during freshman year, but feels he is the exception rather than the rule.
"I don't think that fellow students are very civically involved," Mroszczyk says. "There is certainly a very active minority of students who are, but in large part I think many students are not too concerned with political activities and civic involvement."
That minority may exercise considerable influence in getting out the Terrier vote, however, because they help connect students on campus with political parties.
"Campus political activism is important because it means that we can play a role in creating a better tomorrow," says Cory Kalanick (CAS' 08), president of BU College Democrats.
According to a 2006 survey by the Center for Information and Research on Civic Learning and Engagement, young people are more likely to vote when they are asked to do so. The survey found that 44 percent of people age 20 to 25 who were contacted by a party or candidate said they vote regularly, compared to 22 percent of young people who were not contacted.
Students know best how to make that contact. "Facebook has been a brilliant resource for us in terms of reaching out to students," Kalanick says. "It is quick and easy to spread the word via interactive messages or events."
 Massachusetts Democratic gubernatorial candidate Deval Patrick has 35 friends on the BU Facebook network — although he may not answer if you "poke" him. The other three gubernatorial candidates have photos, friends, and announcements on the Campaign Network.
Some staples of political campaigns turn young people off voting. "Their ads make you laugh," says Justin Hylwa (SMG'07). He does not plan on voting on November 7, although he voted in 2004. "In the end, it doesn't matter," he says. "Nothing really changes."
Students have a cynical attitude towards politics, according to Julian Zelizer, a College of Arts and Sciences professor of history. "It's very hard to get students to get out and vote. They don't see how their participation matters," he says. College does provide an ideal time for students to become engaged in politics, because the curiosity and interest are there, he says.
Perhaps that's why some students prefer volunteering or advocating for a certain issue over voting. "They are not just helping a candidate to get elected — they know they are having an impact," Zelizer says. "Their cynicism is directed to the politicians, not to the causes."
Sanu Dev (CAS'08) registered to vote as soon as she turned 18, but she now prefers to work for causes such as building wheelchairs for disabled people, as she did on her last spring break. "You see the results quicker," she says.
Despite students having so many other things going on in their lives, they make participating a priority, in the opinion of Colleen Quinn, coordinator of political groups at the Student Activities Office. "They are definitively not apathetic," she says. "I think it's like everything else — it's about doing what you really become passionate about."