Shaping the Future of Art
New School of Visual Arts Director Lynne Allen backs new methods, media at CFA
During the month of October, the fifth floor of the College of Fine Arts smelled suspiciously like tea — 650 pounds of it, to be exact. Visitors encountered a different kind of Boston Tea Party, with elaborate cup-and-saucer sculptures, white linen tablecloths, and walls covered in fragrant swirls of loose tea. The large-scale installation, created by graduate students with the help of internationally known installation artist and photographer Sandy Skoglund, was part of the college's Contemporary Perspectives Lecture Series.
Spearheaded by Lynne Allen, who took over as director of the school of visual arts in August, the expanded lecture series includes contemporary artists such as Skoglund and African-American sculptor Willie Cole.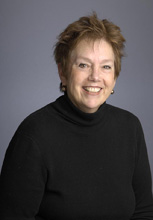 Lynne Allen joined
the school of visual arts
as director last August.
Photo by Kalman Zabarsky
"In just one semester, [Allen] has made an impact by engaging wonderful high-profile guest artists to challenge our students, thereby broadening their perspectives and approaches," says Walt Meissner (CFA'81), dean ad interim of CFA. "Her passion, visionary thinking, and high ideals will surely position the school of visual arts as one of this country's leading visual arts institutions in the coming years."  
A master printmaker with an MFA in painting and printmaking from the University of New Mexico, Allen previously taught at Rutgers University, where she also served as director of the Rutgers Center for Innovative Print and Paper. Her work has been displayed in museums throughout the United States and abroad, including the Brooklyn Museum of Art, the Whitney Museum of American Art, the Corcoran Gallery of Art, the Portland Art Museum, and the Victoria and Albert Museum in London.
"I came to BU to build on an already strong program," Allen says. "It's a personal challenge, and Boston is an incredible city. I've been blown away by the faculty's dedication and skill, and the students are wonderful."
The school of visual arts' BFA program has been labeled too traditional. "It's true that the very foundation of our program is based on drawing from observation," Allen says. "Our students spend a tremendous amount of time in the studio, and coming from an art school that didn't have that, I can say that the students at Boston University are better artists because of it. After they have learned the basics, they then concentrate on their own personal content."
While the school of visual arts has always welcomed visiting artists, the Contemporary Perspectives Lecture Series seeks to broaden students' exposure to mediums beyond those of painting and sculpture by bringing in artists who work in other mediums. "There are a multitude of mediums within the art world," Allen says. "With the additions of film, photography, and digital art, the contemporary art world is changing every day." Eventually, Allen hopes to expand the series to include a yearlong artist-in-residence program.
The new visiting lecture series, Allen says, will augment students' explorations into their own creative psyches by introducing them to a culturally diverse group of artists who will critique student artwork while they are on campus.
"When I interviewed for this position, I was asked what part an art education has in developing artists and the future of the art world," Allen says. "I replied that if you give students the tools, they will make the future. These lectures are simply tools that we as a visual arts school can give our students."

Vicky Waltz can be reached at vwaltz@bu.edu.