Scott G. Nichols leaves Harvard Law School to lead BU effort
New VP of development and alumni relations announce2d
Scott G. Nichols, who has been dean for development, alumni relations, and communications at Harvard Law School since 1986, has been named vice president for development and alumni relations at Boston University. Nichols has been a trustee of Bucknell University since 1992 and has held numerous leadership positions at the Council for the Advancement and Support of Education. His appointment was announced today by President Robert Brown, and he will start his new job on May 1.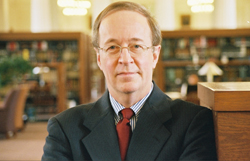 "Scott brings to the position the talent and experience of working successfully with alumni and friends to raise significant resources for the academic enterprise," says Brown. "He has demonstrated the ability to build a very successful development organization by empowering his staff and by setting high standards for success." 
Nichols says that he is looking forward to crossing the river and is enthusiastic about joining the BU development effort.
"I'm very excited about the chance to work with Bob Brown and the senior team," says Nichols. "BU seems to be emerging into a new and wonderful era. Alumni relations and development will certainly play a key role in the new and extraordinary strategic plan."
Nichols, who has 33 years of experience in fundraising, assumes the role held for the past 10 years by Dr. Christopher R. Reaske, who announced his retirement in October 2004, but agreed to remain in the position until a new University president was chosen and could name a successor. Brown was selected as BU's 10th president in June 2005.
"In the coming year, Scott and I will work closely with the provost and deans to set the agenda for development and alumni relations,"  Brown says. "This agenda will dictate many components of the strategic plan for development. It is already clear that one of the major foci of this plan will be enhanced communication with our alumni and increasing their engagement with the university."
At Harvard Law School, Nichols recently completed a $150 million campaign, which exceeded its original goal by $33 million. He leaves an ongoing five-year, $400 million campaign that under his direction achieved more than 50 percent of its goal in the first year.
Prior to Harvard Law School, Nichols was for six years associate vice president and director of development and alumni affairs at DePaul University in Chicago, and director of annual giving at Northwestern University. A graduate of Bucknell, he then served as assistant director of development and director of alumni relations there. He earned an M.S. and an Ed.D. in educational leadership at the University of Pennsylvania.