Saving Bolivia's Street Children
MED professor provides medical care, hope to homeless in La Paz
Nine years ago, Chi Huang realized that something was missing from his comfortable life as a medical student. So he took a leave of absence from Harvard Medical School and flew to La Paz, Bolivia, to work with street children. That first trip in 1997 began his long-term commitment to the city's street children. Huang, now a School of Medicine assistant professor of pediatrics and a physician at Boston Medical Center, is the founder of the nonprofit Bolivian Street Children Project.
His shock at how the street children lived and his subsequent determination to improve their situation are detailed in his recent book, When Invisible Children Sing (Saltriver), written with Irwin Tang. BU Today talked with Huang about his book, his work in Bolivia, and how his background influenced his decision to devote himself to advocating for street children in developing countries.
BU Today: How do you help street children in La Paz?
Huang: We place abandoned street children in a transition home for one year, and then we move them to our Barnabas Center houses, where rules are stricter. Sometimes the kids are not prepared for highly structured long-term housing situations, and that's why we have the Street Children Transition House. The idea is that they can go to school or find a job that could help them survive in a developing country. We also make short-term loans to street children or families who have a project. What worries me is that these boys could turn 18 and not find a job, become homeless adults, and bring to the world more homeless children. My idea is to make a change, so that if we invest in that boy 10 years of work, then we have to have a way to keep him off the street. This is hard, especially in Bolivia.

How do you combine your work in Bolivia and your job at Boston Medical Center?
I go to Bolivia three or four times a year, and we are lucky to have a staff of 15 doing most of the work there. Now the main concern is to train the Bolivian staff. At the pediatric global health initiative, which I direct, we mainly study issues in Africa, and we talk about a different conflict each time at our monthly lectures. Students can do a residence in Africa or Bolivia. I've never seen so many different languages as you see here at BMC — it's the most diverse population I've ever seen. I think this is an advantage; it helps the doctors to understand the problems when they spend a semester abroad.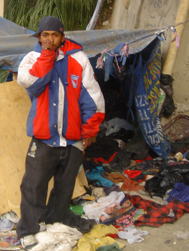 Chi Huang reports that more
than 90 percent of street
children inhale paint thinner
to stay warm in the winter.
How would you compare a doctor's experience in Bolivia with working at Boston Medical Center?
With my patients in Bolivia, I am the 'padrino.' Here, it is more professional — you tell a patient to take this medicine and to come back in a couple of weeks. It's more clear where the fine line is of what's acceptable and what's not acceptable. Another difference is that here we are taught to practice medicine based on tests and studies. In Bolivia, and in most of the world, tests could take forever, and you have to learn how to work without them. I think that, just as when I first went down there, for my residents in Africa and in Bolivia it is hard to actually grasp the reality.
Why did you decide to include your personal history in the book?
I think that for someone to understand the lives of these kids it is important to know where I am coming from. It is important for the reader to know where the lens is. That's the reason why I wrote about my life. There is also a historic reason, the death of my only sister, which also moved me to include my own life. Ten percent of our kids this year died in the streets. As a pediatrician, I never imagined I would attend more funerals than births. I decided to write this book because of my sister and also as a way of giving back. We lived in the projects, in subsidized housing, and ate thanks to free food and food stamps. Without all that I wouldn't be where I am now.
How can people help the street children?
We do some fundraising here, and people can get information on our Web site. We are also trying to get more local people to contribute. I think the solution is in creating more grassroots organizations that are able to take the children off the streets and also in improving the larger picture of the economy and the governmental corruption in Bolivia.