Racing, on and off the river
COM class battles deadline to cover Head of the Charles
Last weekend, the 12 students in Peter Smith's photo editing class completed a midterm on location and on deadline.
The College of Communication students in Photo Editing (JO 515) spent the weekend working "not as a classroom, but as a newsroom," says Smith, an assistant professor of photojournalism. Starting early on Saturday, they began covering the entire Head of the Charles regatta, the largest two-day rowing event in the world, held every fall on the Charles River. Over the next 48 hours, they reported on the October 21 and 22 event, shot photos and captured audio, and then produced an online publication — the 515  — which features photo galleries, written stories, and audio slide shows. The Web site was completed early Monday morning and serves as the midterm exam for the class.
"My students worked very hard on the site," says Smith, "and did a great job."
To view the three slide shows produced by the class, click on the images below. To read the stories and view additional photos, visit the 515 Web site at www.bu.edu/com/regatta/index.html.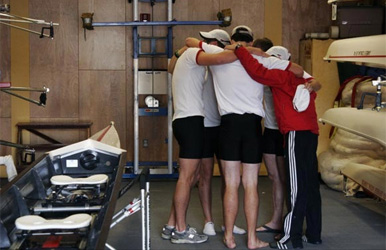 Members of the men's rowing team huddle before the race. Click above to view a slideshow about rowing crew at Boston University.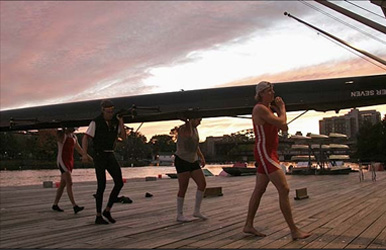 Rowers in the Head of the Charles launch from their boathouses, then row to the starting line. Click above to view a slideshow about the race and its history.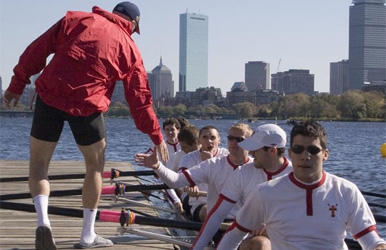 The men's crew prepares to head for the starting line. Click above to experience the sights and sounds of the 42nd annual Head of the Charles Regatta.