Iraq: Should We Stay or Should We Go?
COM's Great Debate declared unprecedented draw (with video)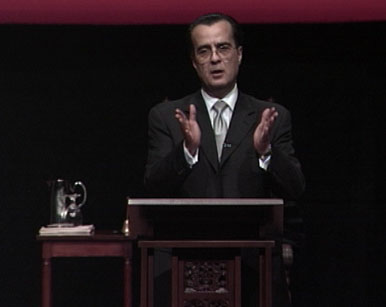 Click on the photo above to watch an excerpt of COM's 22nd Great Debate.
When U.S. forces invaded Iraq on March 20, 2003, few people, including members of Congress and White House officials, would have predicted that more than three and a half years later U.S. troops would still occupy the country. While until last month President Bush had asserted that the United States would "stay the course" in Iraq, the loss of human life — both American and Iraqi — and the billions of dollars in war costs have led many politicians and political theorists to propose that the United States withdraw its forces immediately.
The question "Should the U.S. 'stay the course' for victory in Iraq?" was the topic of the Boston University College of Communication's 22nd biannual Great Debate, held in the Tsai Performance Center on November 1. The controversial topic resulted in "the first even split in the history of the Great Debate," said moderator Robert Zelnick, a professor of national security affairs in COM's journalism department.
Arguing on the affirmative side of the debate was Adib Farha, senior policy advisor of the American Lebanese Coalition. Joining him were Lt. General Thomas McInerney, founder of Government Reform Through Technology and a Fox News military analyst, and Daniel Chaparian (COM'07).
"If the U.S. leaves now, it will only confirm anti-American propaganda that says America doesn't have the patience or commitment to finish a job," said Farha, who prefaced his argument by saying that he was opposed to the initial invasion. "If we leave now, the conflict will only follow us home. September 11 was a lesson."
Farha's prediction that an early withdrawal will promote terrorist attacks on U.S. soil was seconded by McInerney. "Islamic extremism is a threat far worse than Nazism, fascism, or communism," he stated. "If the U.S. pulls out, in 25 years we will have an Islamic flag over the White House."
Chaparian agreed. "The only thing worse than invading would be invading and withdrawing, thereby destroying the Iraqis' chances for a future," he said.
Speakers on the negative side of the debate scoffed at the so-called "scare tactics." Lead speaker Peter Galbraith, a political consultant and former U.S. ambassador to Croatia, opened his opposing argument by saying that "victory in Iraq is not a strategy. A strategy is a plan based on a real assessment of a situation."
Galbraith's solution to achieving victory in Iraq included military steps he claimed the president is not prepared to take. "We must disband Shiite militias and theocracies in the south that violate human rights," he said. "That would mean many more troops and many more casualties, but if we're not going to spend the resources to end Iraqi civil war now, then we should withdraw."
Neil St. Clair (COM'08), who joined Galbraith on the negative panel, advocated "a steady withdrawal within a framework that offers stability to Iraq," and the third member of the opposing side, Michael O'Hanlon, a senior fellow of foreign policy studies at the Brookings Institution, proposed "a nationwide Iraqi job program" similar to Franklin D. Roosevelt's New Deal programs of the 1930s.
Following the speakers' closing arguments, audience members voted for the debate's winning side. Although Zelnick pronounced the debate a draw, audience member Matthew Lang (SMG'07) said he believed the negative panelists conveyed their arguments more effectively. "I felt they had more experience and information to back up their opinions," he said. "But it still felt really politically driven to me, and the only way to resolve this conflict is to put our political affiliations aside."   
While Renzo Verne (CAS'09), another member of the audience, thought that the negative panelists provided stronger arguments, he agreed with the affirmative speakers. "Leaving Iraq now would only establish more chaos," he said.  
Watch current and previous Great Debates in full here.