Heroic Acts Honored by BU Police
Saving a life, foiling a car theft, and other deeds rewarded
A woman was crouched precariously on the edge of the BU Bridge sobbing uncontrollably. "She looked like she was either going to jump or drop down," recalls David Tanklefsky (COM'08), who was crossing the bridge September 26 just before noon. "I asked her to climb back over the railing, but she just kept crying," Tanklefsky says.
Fortunately, Daryl Deluca, BU Judicial Affairs director, also happened to be walking by. "I used David's cell phone to call the Boston University Police, and then we both held onto her," Deluca says. When BUPD Officer Daniel Digiovine appeared on the scene, he stepped onto the ledge and took hold of the young woman. He convinced her to stand up, and the three rescuers helped her over the railing and onto the sidewalk.
On November 3, BUPD Chief Thomas Robbins presented Tanklefsky and Deluca with Citizen Commendation awards — and Digiovine with the Medal of Valor award — during the department's Fall Awards Ceremony at Agganis Arena. They were among 21 awardees.
"It's a big honor, but frankly, I feel kind of sheepish being here," says Tanklefsky. "It was a right-place, right-time situation." But the self-effacing Andover, Mass., native did concede that several people had walked by and ignored the distraught woman, who was ultimately provided with medical care and is currently doing well.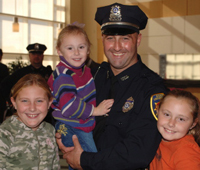 Officer Brian Abdallah, recipient
of two BUPD awards, with his
daughters (from left) Nina, Alexi,
and Sheila. Photo by Vernon Doucette
"With these awards we want to recognize exemplary service by Boston University Police Department personnel and members of the community," says Robbins. "This is an urban campus and sometimes our officers put themselves in grave danger to protect the public."
Robbins wasn't referring just to Digiovine's rescue. Several of the BUPD officers who received commendations were injured in the line of duty, including Peter McCarron. During the early morning hours of August 18, McCarron and fellow officer Jonathan Mahoney saw a man trying to tear a car radio out with a screwdriver as they were patrolling Mountfort Street in South Campus. When the two men, joined by Officers Kevin St. Ives and Brian Abdallah, tried to arrest the suspect, he stabbed McCarron in the forearm several times with the screwdriver. McCarron also suffered two broken ribs before the thief was subdued and arrested.
Another bloody struggle threatened to turn deadly for three commendation recipients. In the early evening of July 3, BUPD Officers William Donnellan and Melissa Lombardo, along with Sgt. Patrick Nuzzi, were questioning two men involved in an apparent drug deal near Boston Medical Center (BMC), when one of the suspects bolted into traffic on Massachusetts Avenue. The chase was on. During a wrestling match on the street, the suspect grabbed onto Lombardo's gun and they fought for control of the weapon. The officers, with the help of members of BMC's Department of Public Safety, were able to make the arrest — but not before Nuzzi's pinky finger was nearly bitten off. He and Donnellan also suffered head wounds in the melee.
Two other arrests brought commendations to Peter Torchio and John Ryan, BUPD detectives. This past summer, Torchio arrested a suspect who had sexually assaulted a three-and-a-half-year-old girl. Neither the girl's family nor the suspect were members of the University community, but the offense occurred within the BU department's jurisdiction. On April 4, the radio staff of the College of Communication's student-run station WTBU received a bomb threat by e-mail. With dogged determination, Ryan  — along with computer forensic specialists, outside police agencies, and the state Attorney General's Office — tracked down the threat to a local high school student's laptop computer, made an arrest, and pursued a successful prosecution.
Others receiving commendations were Officer William Campanella, who revived a woman suffering from heat stroke at a BU event, Officer Abdallah and Jack Weldon, associate dean of students, for community policing efforts, and seven members of the BUPD who were instrumental in forming RAD (Rape, Aggression, and Defense) classes at BU: Sgt. Jefferey Burke, Sgt. Anastasios Giannopoulos, and Officers Diane Smith, Peter Shin, Richard Cabral, Richard Camillo, and Ciaran D'Arcy.
"These awards not only enhance officers' morale, but also give us the chance to recognize citizens who have aided the BU Police Department, especially in community policing," says Sgt. Jack St. Hilaire.